Published On
Sidhu's 'Most constructive 50 minutes' with CM Mann, looks excited after the meet
Former PPCC Chief Navjot Singh Sidhu today met Punjab CM Bhagwant Mann, meeting lasts for about 50 minutes, said that now the time of the traitors of Punjab is over.
Author :
Samriti Bharadwaj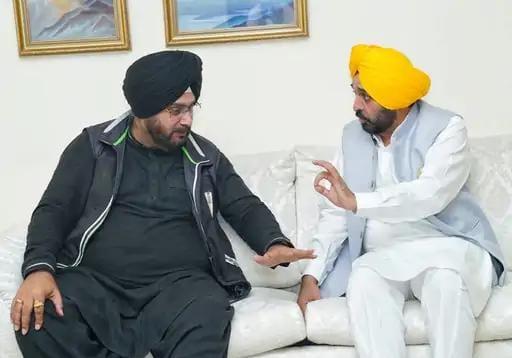 Former PPCC Chief Navjot Singh Sidhu today had a meeting with Punjab CM Mann. The meeting between them lasted roughly 50 minutes in Chandigarh's Civil Secretariat. After coming out, Sidhu exclaimed, "Now the time of the traitors of Punjab is finished." He has great expectations of CM Mann. Captain Amarinder Singh had also been told these things, but he ignored them. Sidhu stated that if CM Mann has completed the task, he will cheer. If not, I'll be vigilant.

After the meeting got over, Sidhu tweeted and wrote, Most constructive 50 minutes spent… Reiterated the pro-Punjab agenda that I have stood for for years… Talked about means to generate income, it's the only solution to end Punjab's problem… CM @BhagwantMann was very receptive… Assured that he will deliver on people's aspirations…"
Sidhu began by praising CM Mann. I came here for the upliftment of Punjab, remarked Sidhu. In CM, there is no ego. They are today, just as they were 10-15 years ago. Perhaps a little more courteous. Sidhu said that I told Mann that the contracting system had mortgaged Punjab. This system is supported by the leader. It wasn't about me; it was about the system, which continues to this day. The leader will fall the day I end the deal in the sand, I remarked. Everything will be OK after the rate is set.

Also read: Jalandhar: Quarrel on a trivial matter; Close relatives killed the man by throwing bricks

Alcohol, according to Sidhu, can bring in 25 thousand crores. The government should look into who holds the L1 permit. Which leader used to loot and steal? The government can make ten thousand crores only from this license.

Sidhu's standing in Congress is precarious. In Congress, the sword of disciplinary action now hangs over him. This has sparked speculation about whether Sidhu will switch parties again.