Published On
Internationally Acclaimed Danish-Punjabi Singer, Anita Lerche, releases her first Sikh Devotional Hymn"Simran" on April 13th, 2022
Internationally renowned singer and composer, Anita Lerche, celebrates and recreates the time-honored Sikh devotional tradition of rhythmic chanting of sacred words during worship in her new SIMRAN release.
Author :
Priyanka Vinayak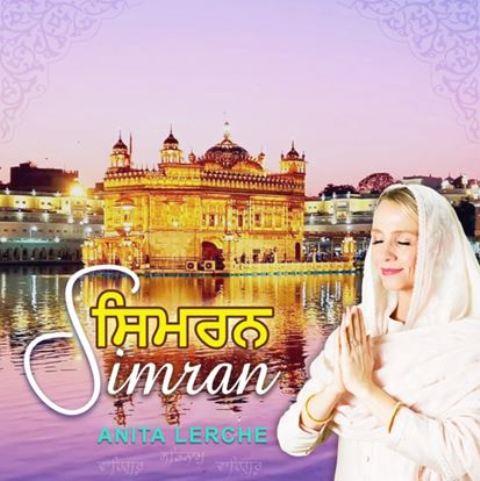 Internationally renowned singer and composer, Anita Lerche, celebrates and recreates the time-honored Sikh devotional tradition of rhythmic chanting of sacred words during worship in her new SIMRAN release. The mesmerizing and beautiful SIMRAN was created by Anita Lerche and her accomplished team from Punjab and the US. Speaking of and thrilled by her exciting devotional music project, Lerche joyfully expressed a prayerful hope:
"The Waheguru (Wonderful Lord) Simran (meditative chanting) is truly heart-opening and I felt at peace while recording this amazing Sikh spiritual chant. I hope that the transcendent magic of this divinely-inspired project will illuminate people of all faiths, cultural traditions, and communities that enjoy devotional music. I pray that my SIMRAN recitation and video may offer a spirit of healing and enrich people's understanding about the Sikh faith and its sacred music." – Anita Lerche.
Director and Filmmaker Dr. Harjit Singh captured the mesmerizing visuals from Punjab and Emmy winning videographer Nate Heck shot Lerche's visuals. The soothing and meditational music was created by the talented Music Producer Mohit Kunwar and Satwinder Pal Singh on Sarangi. The whole project came to fruition with the support of Executive Producer Agiapal Singh Randhawa (L'aurel Media), G.S. Gill and Anita's Punjabi language teacher Anurag Sood. We want to extend deep gratitude to the Sikh Sangat of Indianapolis for their love and support during the recording process, both in the Gurdwara and in the Lodge Recording studios, and to Sh. Vijay Kumar Chopra ji, Chief Editor of Punjab Kesari.
Lerche is most celebrated for her award-winning work in Punjabi and is also a Billboard top-5 charting Artist. She was the first non-Asian woman from the West to release an album in Punjabi. With her albums "Heer from Denmark" and "Sadke Punjab Ton" and collaborations like "Aao Ji" and "Maahiya", her career as an international singer who travels the world entertaining huge crowds with her unique and electrifying performances has over the years transformed her into an Ambassador for Punjabi music, language, and culture. After one and a half decade on the South Asian music scene, she was honored to receive the 'Special Contribution Award' at the UK Bhangra Awards, 2019. Vocally trained at Mountview Academy of Theatre Arts in London, Lerche has sung in a total of sixteen different languages. Lerche first visited India in 2005 and considers Punjab her second home and has been a resident of Indianapolis, Indiana for the last 8 years.
Sacred music has always been a part of Lerche's life, and her professional singing career was kick started more than 30 years back as a church singer in Denmark and she would also be performing Danish Hymns with the Danish National Girls' Choir on Danish National Television. Back in 2016 Lerche released her first devotional solo album called "Bhajans" with Hindu devotional songs. The Indian Embassy in Denmark chose her to represent Denmark in the grand video collaboration of Mahatma Gandhi's favorite Bhajan "Vaishnav Jan To", sung in Gujarati. The video was launched by Indian Prime Minister Narendra Modi as a part of the 150 years birthday celebration of Mahatma Gandhi. Lerche's latest album "Love Is My Religion" conveys a strong message of love and unity across all borders and religions. The album won her the 'Best Female Vocalist' award at the Global Music Awards 2021. Lerche is deeply impressed of the teachings and philosophy of Shri Guru Nanak Dev ji, founder of Sikhism. She also believes in oneness of humanity. Lerche performed her first Shabad ever 10 years ago at a Vishesh Kirtan Darbar at her birthplace in Copenhagen, Denmark, and has since had several recitations of Shabads in various Gurdwaras globally. The deep appreciation from Sikhs all over the world and having lived in Punjab over a decade inspired her to record Sikh sacred music. The very first viewing of the SIMRAN music video happened last month for a select audience at the International Mother Language Day event in Chicago, celebrating Punjabi language, which was organized by 7 Midwest Punjabi Associations and the Consulate General of India, Chicago. Mani Grewal, who was in the audience, says:
"I saw Anita get a standing ovation as her mesmerizing chanting of Simran (meditation) video brought tears to my eyes, and I had goosebumps just listening to the soothing music and a perfect synchronization of her high-pitched voice, emphasizing parts of the performance!." "Our spirits were transported as we listened to the rendition of Waheguru Simran in Anita's melodious voice. The sacred words flowed like a river of serene spiritual energy. The chosen music is resplendent, and the selected images represent hallowed sites in the Sikh faith. Anita's soulful voice seems to be coming from a sacred realm deep within the inner sanctum of her soul and carries the listener along on a sacred pilgrimage." – KP Singh (Author, Artist, Public Speaker), USA
"I am delighted to learn that Anita Lerche, who has been singing and composing works in Punjabi language for over a decade and a half, is now releasing her first Punjabi devotional hymn. This works shows her deep connection with the Sikh cultural heritage and brings to viewers a serene spiritual experience. Having sung in 16 languages including Hindi, Punjabi and other Indian languages, she is an accomplished singer working in different genres and cross-cultural settings. She has enriched the Indian cultural offerings in the United States. I wish her all the best for her future artistic endeavours." – Mr. Amit Kumar, Consul General of India, Chicago
Listen to the SIMRAN Single, which is available on all streaming and download platforms worldwide.