Published On
" From attending so many masterclasses to giving my own at the academy, isn't that surreal?" Says Sakshi Gupta on her Inspirational Journey
"Makeup is a way to achieve confidence but not the only way because everyone knows makeup is short term.
Author :
Sukhmani Kaur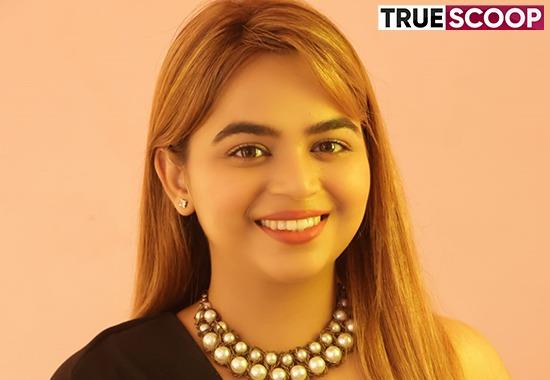 Ludhiana based Makeup Artist Sakshi Gupta is passionate about colors and beauty. Be it brides or models, she is known for her simple yet stunning makeup looks .
Let's take a sneak peek into her life and get to know her struggles, hardships and achievements.

Sakshi pursued a Bachelors in Commerce. She always wanted to do something creative in her life. She found her calling when she was in school learning fine arts.

Sakshi's Journey from being a Bcom student to an established Makeup Artist

Sakshi shared her journey and says "I started my career with Trousseau packing and used to make handmade creative gift items but after that due to health Issues I was stuck in a room for more than a month. I was not even allowed to use my phone or see the mirror. So in that difficult time, I decided that why not move to the beauty world and explore this stream. Then with sheer determination and family support, I went to Delhi and started learning makeup from scratch."

"I worked under different Makeup Artists, did free Makeup to brush up my skills and then finally in 2018 I started with my own studio at my residence. With God's grace, years of hard work to turn my passion into profession and my team's efforts we have been able to attain a decent social media reach, put valuable content on our youtube channel and help women to embrace their beauty and confidence through makeup".

"It's beautiful when career and passion come together"

Sakshi says,"I believe that Passion in life is very important. My passion for Fine arts is what I metamorphose into Makeup. I was able to understand that my love for colours can be used in the makeup industry and can be molded as per my potential."

"Moreover, changing trends in careers, blurring professional lines and with my parents' support, I was able to build my brand as Sakshi Gupta Makeup Studio and Academy."

" All our dreams can come true if we have courage to pursue them": Walt Disney

Sakshi started learning Makeup from renowned MUA Meenakshi Dutt Makeovers. After every few years, she polished her skills by joining different courses and classes.

She adds, "From Attending so many Masterclasses to giving my own at the academy. isn't that surreal? I can't express this feeling as I am speechless right now. The validation I got for my work is priceless. People from different parts of the country come together and join my class, they admire my work, they take out time to watch my social media, all this inspires me each and every day to work as hard as possible."

"Your Inner beauty never needs Makeup"

Research shows that makeup can significantly alter the impression we have of women. Women wearing makeup are perceived as more attractive, competent, dominant, and more socially prestigious.

On the contrary, some studies show that women with lower self-esteem use more makeup, probably to hide imperfections.

Sakshi guides young girls on how to fight battles to look perfect all the time and how to manage Reel vs Real expectations. "Makeup is a way to achieve confidence but not the only way because everyone knows makeup is short term. No doubt, with social media, dazzling weddings, makeup has become our necessity, but you can't hack confidence by the means of makeup. It will reflect outwards."

"Honesty, Communication skills, Career goals , Respecting people,and most importantly Dreaming big are the ways to add confidence to your personality and enhance your inner beauty."

" The success of every woman should be the inspiration to another. We should raise each other up. Make sure you're very courageous: be strong, be extremely kind and above all be humble" : Serena Williams

Sakshi adds to this and says, "Anyone who has belief is capable of doing wonders. This applies especially to women. I feel so happy when a girl runs her own business, it gives me accomplishment of another sort. Strength, Fearlessness, Intelligence comes to women when they push their limits."

"Make your parents proud and do whatever you want to do in your life, keep practicing and brushing up your skills, don't listen to naysayers and keep yourself surrounded with positive people."

" Believe in yourself! Have faith in your abilities! If you can dream it, you can do it"

Sakshi's message to budding MUAs

"First of all I would like to wish everyone the best of luck. Young minds shifting gears to the creative field should be encouraged."

"I want to add whichever stream you choose whether it is makeup artist or other zillion options. Be the best version of yourself and don't settle for mediocrity. Dream big and achieve it with all your potential."