Published On
Under a unique initiative of Printing and Stationery Department, govt file covers to have slogans against social evils: Meet Hayer
Printing and Stationery Minister Releases New Government file covers*
Author :
Rakesh Behal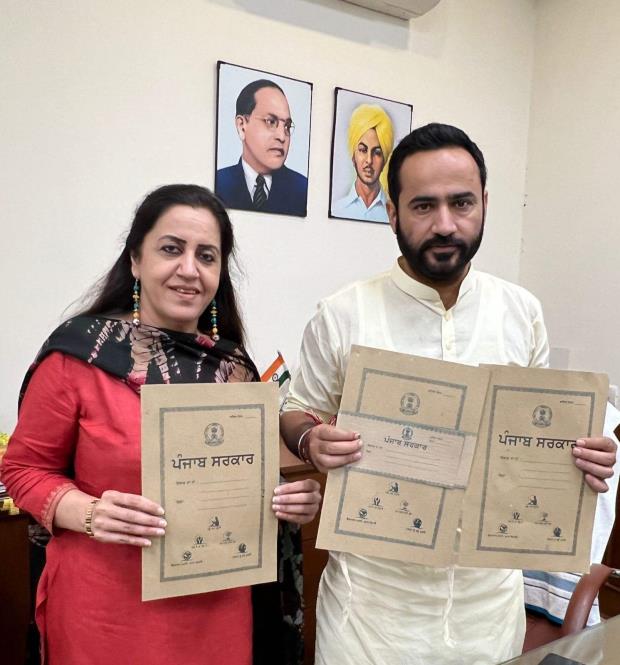 Reiterating the pledge taken by the Punjab Chief Minister Bhagwant Mann, to root out the scourges of corruption and drugs, the state Printing and Stationery Department has taken a unique initiative and started a campaign to create awareness against social evils through government file covers. Literacy campaign and environment and water conservation are also key agenda of this unique campaign.
It was disclosed by Printing and Stationery Minister Gurmeet Singh Meet Hayer while releasing the new government file covers. These new file covers and flappers were released by Cabinet Minister and Special Secretary Dr. Senu Duggal.
The special feature of the newly released government file covers is that they bear the slogans 'Stop Corruption, Bring Reforms', 'Eradicate Narcotics', 'Every Man Grows Trees', 'Jal Hai To Kal Hai' and 'Padho te Padhao' are written with associated logos affixed. Apart from this, columns have been kept for writing the information of the department, branch etc on the flapper placed on the file. Before this, every time preparing any government file, a separate printout had to be taken out.
Divulging the details Meet Hayer said that the state government has adopted a zero tolerance policy against corruption and drugs. Apart from this, the government is giving priority to environmental protection. He said that the printing and stationery department publishes the file covers which are in daily use for all the government departments. The department has decided that slogans raising awareness against social ills and protecting the environment should be written on the files.
The Minister said that the files of government offices go out of the hands of many government employees while doing daily work and there cannot be a better initiative than this to convey a good message. Apart from this, to save time and money, it has also been decided to print the name of the department, branch etc on the flapper placed on the file cover so that separate print does not have to be taken while preparing each file.