Published On
1,000 years-old 'Non-human alien corpses' unveiled at Mexico's Congress; Video leaves netizens baffled
Two corpses believed to be of "non-human" alien species were displayed in the Mexico Congress for the public on September 13, 2023 Author :
Malkit Singh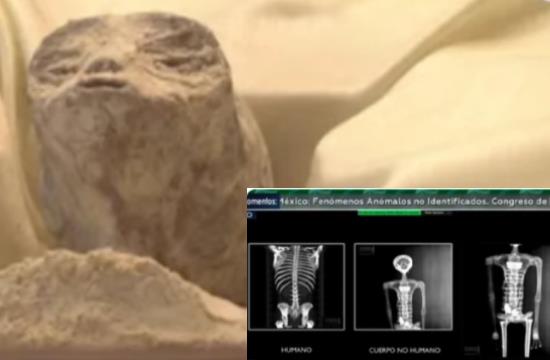 While a plethora of conspiracy theories are already floating on social media, Mexico Congress recently unveiled via live-streaming what it described as 'non-human alien corpses' on display. Described as the 'watershed moment' in the history of mankind if it's true, Mexico Congress live-streamed the non-human corpses which will act as a catalyst in fueling further interest in aliens and UFOs. While the US has already been holding public hearings on the presence of aliens and the possibility of Unidentified Flying Objects (UFOs), now named Unidentified Aerial Phenomena under US secret custody, Mexico revealing the corpses indeed stamp the fact that there might be some truth in it.
As per Mexican media reports, two corpses believed to be of "non-human" alien species were displayed in the Congress for the public on September 13, 2023. Reportedly, these corpses are at least 1,000 years old. Interestingly, the Mexico Alien Event was led by journalist and ufologist Jaime Maussan, who has been investigating the extraterrestrial phenomenon for decades, and co-hosted by Mexican scientists. It is pertinent to mention here that the event was graced Ryan Graves, a former US Navy pilot and Executive Director of Americans for Safe Aerospace who claimed to have encountered such sightings during his flights. Notably, these mummified specimens allegedly of aliens were kept in windowed boxes for all to see. They were allegedly retrieved from Cusco, Peru.
Watch the Mexico Congress Alien Video
Scientists unveiling two alleged alien corpses took place in Mexico, which are retrieved from Cusco, Peru. pic.twitter.com/rjfz9IMf37

— Indian Tech & Infra (@IndianTechGuide) September 13, 2023
★ Live: Body Scans of the #AlienBodies

• Mexican Government say we are not alone we had not been alone they are advance and have technologies beyond our knowledge#UAP #UFO #Alien #MexicoUfoHearings #Mexico pic.twitter.com/yApnlxu8qY

— Landon Maccann (@LandonMaccann) September 13, 2023
Netizens baffled over Mexico Alien Video
A user wrote, "Is this for real !! How did the poor guys die..."
Another user wrote, "First of all, RIP..Secondly, IS THIS REAL? WHAAAT?"
'Is US Govt hiding crashed UFO & aliens' dead body?' Ex-intelligence Officer makes bombshell revelation
One more user wrote, "Woooaaahh!! Is this for real?"
Is the US hiding UFOs and alien corpses?
The answer is yes as per former American intelligence official David Grusch. David Grusch during a US Congressional hearing grabbed global headlines when he was asked under oath if the US government has the pilots of "crashed crafts". He said, "Biologics came with some of these recoveries, yeah." He further mentioned that these biologics were "non-human." Also, the assessment was made by people who have "direct knowledge" on the issue. The former US Intelligence officer clarified the Congress that "non-human" biologics had been recovered by the government. However, he had himself never seen an alien body. Furthermore, he claimed that that he has not seen the alleged alien craft himself and his claims are based on "extensive interviews with high-level intelligence officials".
For the unversed, David Grusch was in charge of investigating unexplained anomalous phenomena within a US Department of Defence agency until 2023