Published On
Explainer: Over 46 immigrants died in Texas; Here is why immigrants flee to the US & more
As a result of pressure from states like Texas over immigration policy, arrests and deportations of migrants have decreased dramatically under the Biden administration.
Author :
Ms Chaithra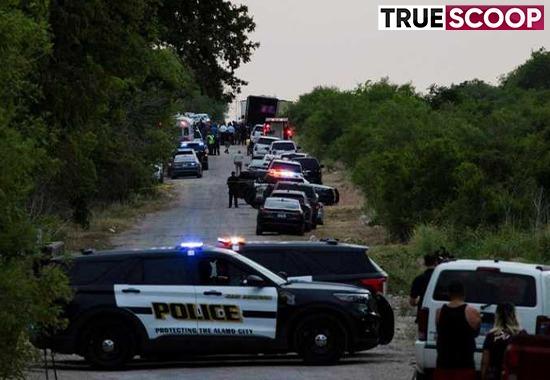 In San Antonio, Texas, about 46 undocumented immigrants were discovered dead in a tractor-trailer, according to authorities. More than a dozen were taken to hospitals after at least.
An 18-wheeler with up to 100 migrants aboard was discovered abandoned near the 9600 block of Quintana Road, according to Fox San Antonio. Crews were there. The discovery is thought to be a component of a human smuggling scheme.
Authorities at the scene revealed that 46 people had been found dead, but no children. Officials did not specify if the migrants were from Mexico or from anywhere else.
Sixteen adults and four children from the tractor-trailer were among the sixteen people who were sent to the hospital.
Before 6 p.m., a nearby worker alerted police about the tractor-trailer, according to San Antonio Police Department Chief William McManus. When authorities arrived on the scene, they discovered dozens of dead people inside the transport vehicle's rear.

Also Read: Ludhiana: Government's decision to open medical colleges get support from public, likely to support shortage of medical professionals in the State
All of the victims who died displayed signs of heat-related causes of death, while the survivors who were taken to the hospital had symptoms akin to heat exhaustion, dehydration, and heat stroke.
McManus made it clear that although the tractor-trailer was chilled, the refrigeration equipment was broken.
Additionally, he said that there was no drinkable water inside the trailer.
Here is how illegal migrants flee to Texas
Since their home countries are unstable, illegal immigrants from Mexico to the Texas to find better job possibilities. But occasionally it also happens as a result of political tyranny.
Many people fled crop failure, land and job shortages, rising taxes, poverty, and other problems because they believed the United States to be a country of economic opportunity. Over 30% of the immigrants from Mexico are in the United States.

Going back to history, thousands of Mexicans fled the horrors of the Mexican Revolution (1910–1920) by moving to the southwest United States, where American business investment in agriculture led to the creation of numerous new employment possibilities.