Published On
5 Trendy Eyeglasses to Wear This Spring
This spring season, take a pledge to look trendy and chic with the eyeglasses that will compliment your face. Author :
Priyanka Vinayak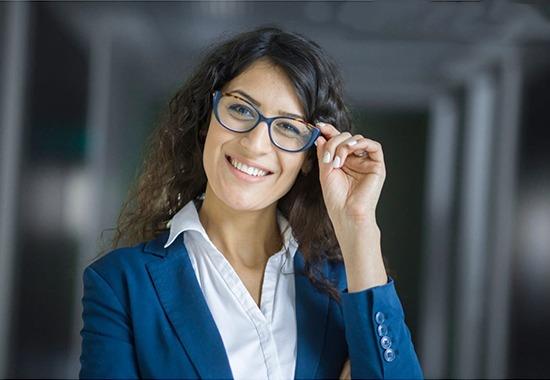 You don't have to be a fashionista or a social media influencer to restyle your look or lookout for ways to pamper yourself. The least you could do is head out to get a makeover but what good is a makeover without changing your existing pair of eyeglasses? Yes, that's right. Investing in a new pair of eyeglasses is all you need to pamper yourself and enhance the look that you've got so bored of.
This spring season, take a pledge to look trendy and chic with the eyeglasses that will compliment your face. Eyeglasses are a thoughtful way of making your face appear in proportion. But before choosing a pair of eyeglasses you need to consider certain factors. It is related to your facial structure, colour of your hair, skin tone, whether you are into sports, any outdoor activities, or leading a
sedentary life
, your sense of fashion, and of course, your personality.
After considering all these factors, march ahead to check out the list of 5 trendy eyeglasses that you can show off this spring.
Blue Aviator Rimmed Eyeglasses

Check out feather these eyeglasses with a trendy pilot look. They are made up of lightweight steel, almost giving off a light feel. It has an adjustable nose pad that gives you a comfy feeling along with a youthful and stylish feel. Get that effortlessly cool look with the shiny finish. The fully rimmed frames ensure that you look fancy whether you are at work or at play.
Black Gun Metal Clubmaster Rimmed Eyeglasses
These uber-stylish eyeglasses are ruling the trends when it comes to eye accessories. Accentuate your outfit with thischic, black-coloured gun metal clubmaster rimmed eyeglasses and make a style statement with panache no matter where you go. Roll into flamboyance with these feather light-weight eyeglasses. It is durable, sturdy, and are apt when it comes to leading a super active lifestyle. Wear it and remain carefree to the extent of forgetting them, whether you are indoors or outdoors.
Black Oval Rimmed Eyeglasses
If you love to stay on top of fashion trends, all you have to do is wear these green oval-rimmed eyeglasses. With trendy, black, oval rimmed eyeglasses such as this, you can set yourself apart and pair your
outfits
accordingly, irrespective of what you wear. This pair has a unique accent that looks great on anyone who wears it. It is super airy, lightweight, and keeps you carefree all day long.
Purple CatEye Rimmed Eyeglasses
The splendid pair of purple cat eye rimmed eyeglasses awaits you. The shiny finish of the eyeglasses is super stylish, and its comfort makes you feel airy, lightweight and unburdened for the entire duration of the time you wear it. Wearing it prepares you to get into the work mode. Grab this pair of spectacles and team it up with a floral outfit. You can team it up with clothes that give off a summery vibe, such as printed patterns,flowing palazzos, etc.
Gold Square Rimmed Eyeglasses
This pair of gold square rimmed eyeglasses makes you super comfortable. It highlights the contours of your face. When wearthis pair with a simple white T-shirt and a pair of denim, you exude the spirit of a sportsperson. This pair can be your go-to eyewear for all your activities outside the house, especially when you want to radiate an extra masculine vibe.
Flaunt Your Trendy Eyeglasses This Spring
Choose a pair or more from the eyeglasses listed above. These handpicked eyeglasses are sure to rock your wardrobe, make you feel your stylish self ever. Wearing them is not just about needing help with vision issues. It is also a matter of choice. So, what's stopping you? Shop for these eyeglasses from reputed brands such as Fastrack, complete your attire effortlessly and make a style statement at parties, work, casual or formal events.