AAP vs Governor: Party carries out foot march in Chandigarh to protest against the cancellation of the special session
Barricades have been put up by the police to control and stop the protest by Aam Aadmi Party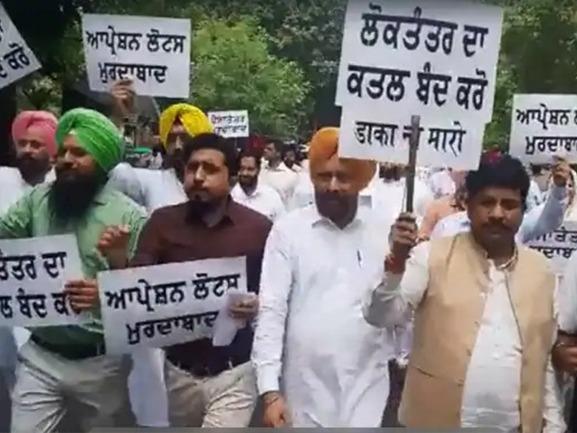 -

The Aam Aadmi Party of Punjab has started its protest in Chandigarh against the cancellation of the special session of the Punjab assembly. The foot march is being carried out in the main square of Chandigarh and all the ministers, as well as the MLAs, are involved. Many slogans against the opposition parties were also raised during the protest. The Chandigarh Police have tried to stop them by putting barricades in the main square. Also, the MLAs have stated that they have come to protest because the opposition party i.e. BJP is killing the democracy of the country.

Although till now the protest that is being carried out by AAP is peaceful but as they are being tried to stop by the police with all their power, which might result in a conflict. The Chief Minister, Bhagwant Man first carried out the meeting with the MLAs and united in the assembly to carry out the protest over the governor's withdrawal regarding the special session that was to be held on 22nd September 2022.

The MLAs of the AAP have totally blamed BJP and said that this protest is being carried out by them against the operation lotus that was allegedly started by the Bhartiya Janta Party in Punjab. When the CM decided to hold a special session, Congress leader Sandeep Jhakar said that this session is being done just to hide the real issues of Punjab. He further added that the present government has failed at every stage of law and order and also raised the Bhagwant Mann and Lufthansa Airlines controversy.

The cancellation of this session has heated up the political environment in Punjab. CM Bhagwant Mann addressed the state and said that it was decided to convene a special session of the Punjab Legislative Assembly on 22 September to legally show how strong the trust of the people is.
Punjab AAP's foot march in Chandigarh over cancellation of special session#PunjabGovernor #punjab #PunjabCM #CMBhagwantMann #BhagwantMann #protest #truescoop #truescoopnews pic.twitter.com/GV9J5DGRyF

— True Scoop (@TrueScoopNews) September 22, 2022