Published On
AAP's 365 days of zero tolerance against corruption, law & order lapses and accomplished promises
Although AAP has scored some prominent feats in the past year, there still remain significant challenges ahead. Author :
Guneet kaur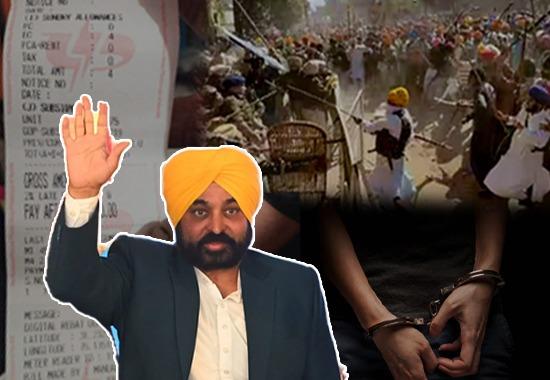 Aam Aadmi Party created history in 2022 by coming into power in Punjab for the first time. CM Bhagwant Mann defeated the two most prominent parties of Punjab–Congress and Shiromani Akali Dal in Punjab Assembly elections.16th March 2023 marks AAP's one year of reign in the state of Punjab. During their election campaign, Aam Aadmi Party made several promises for development of the state as well as upliftment of locals. While effective Mohalla Clinics and increased employment are two feathers in AAP's cap, the state's law and order as well as economy are in jeopardy.
AAP's achievements in last one year
The Aam Aadmi Party took charge when the state was in a chaotic place due to Capt. Amarinder Singh's resignation and Charanjit Singh Channi's appointment as Chief Minister. AAP also strived to implement the tried and tested Delhi model in some avenues.
Healthcare: The AAP government set up Interlinking word- 500 Mohalla Clinics with the latest facilities and well-trained medical staff. It has provided around 10,50,000 people with free treatment and healthcare facilities.
Education: AAP has upgraded around 117 Schools of Eminence for better educational opportunities. They launched a program where selected teachers and Principals were sent to Singapore to upgrade their pedagogies. The training helped newly-trained staff to use advanced, innovative methods in their teaching.
Employment: AAP has already provided 26,797 government jobs to the youth. They are continuing to strategize and create various job opportunities in the public as well as the private sector.
Challenges facing Aam Aadmi Party
Although AAP has scored some prominent feats, there still remain significant challenges ahead. These challenges include turbulent state of law and order, cross-border terrorism, increase in gangster activity, no permanent DGP till now, increased transfers in bureaucracy, and most importantly, religious hardliners threatening the harmony of Punjab.
Cross-border terrorism and an increase in gangster activity
Punjab has recently witnessed a rise in cross-border terrorism. Almost every other day, drones from across the border are being shot down. During AAP's rule, the state has also seen an increase in gangster activity such as the killing of Sidhu Moosewala, murder of Shiv Sena leader Sudhir Suri and Khalistani slogans on public properties. Names of wanted gangsters like Lawrence Bishnoi, Goldy Brar, Jaggu Bhagwanpuri popping up so frequently in the headlines is definitely not a good sign.
No permanent DGP
IPS Gaurav Yadav was appointed as the acting DGP on 23rd June 2022. It's been almost 8 months since Punjab has not had a permanent DGP to take responsibility for law & order.
Religious Hardliners
A 30-year-old, who came from Dubai in August 2022, has created an uproar in the state. From vandalising Gurudwaras to threatening and attacking Police stations, Amritpal has done everything but no action has been taken against him till now. While CM Mann was addressing the Punjab Investors Summit, six Police officials g kiot brutally injured during the Ajnala Police Station clash. Waris Punjab De Chief Amritpal Singh stands as the biggest obstacle between AAP and Punjab's harmony.
AAP's promises (Some fulfilled while others went unmentioned)
Zero Tolerance Against Corruption: AAP has completed this promise with flying colours. This has been a true game-changer, with even their own bureaucrats and political leaders facing scrutiny from the Vigilance Bureau.
Upgradation of 117 Schools of Eminence: To upgrade the quality of education in government schools so they can compete with private institutions, Schools of Eminence were announced in January 2023.
Setting up of 500 Mohalla Clinics: With the inauguration of 400 more clinics in January 2023, AAP has touched its promised mark of 500 clinics.
Regularizing Selected Government Jobs: Around 8,000 teachers and other government employees were made permanent by the AAP government.
300 Units of Free Electricity: There are many households in Punjab getting zero electricity bill because of the scheme.
1,000 Rupees to every woman of Punjab: This promise of AAP stands at a shaky stage. While various forms were filled for the same, the AAP government has till now not launched any such scheme. Furthermore, Punjab Budget 2023 did not mention any such scheme.
To come into power in a state that had mostly seen incumbents winning by vast majorities was a real stumbling block that AAP graciously overcame. However, to ensure that voters don't regret their decision is a fence they are yet to cross. Abuse of power by inexperienced MLAs, inability to maintain peace and mounting debt looms over the state of Punjab. The coming year will be crucial in deciding whether Punjab made the right call.