Published On
'Acharya' Review: Chiranjeevi, Ram Charan father-Son duo remain 'Ordinary'; Fans say 'not so special'
Acharya Movie Review: The audience has high expectations from director Kortala Siva's film 'Acharya'.
Author :
Rohit Gupta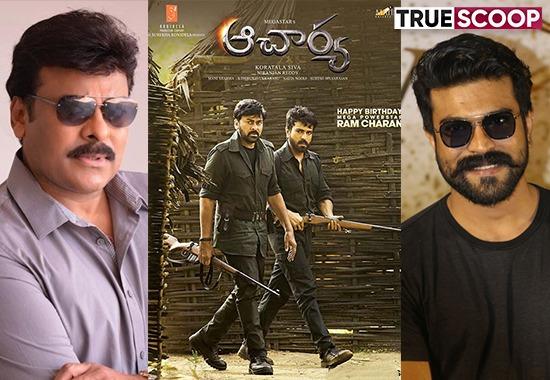 Acharya Movie Review: The audience has high expectations from director Kortala Siva's film 'Acharya'.
At the same time, South Superstar Chiranjeevi and his son Ram Charan are sharing the screen in the film, so the expectations of the fans have doubled.

In the film Acharya, it is being said about the superstar father-son duo that Ram Charan, Chiranjeevi have been brought together on the screen to attract the audience to the theatres on their own.
Now the film has been released in theatres. It is being said that a week after the release, the film Acharya will also be dropped on the OTT platform. It is being said that the film can be seen on Amazon Prime after a week.
What is the story of the film Acharya
The story is about three villages and the people living in them who are bound to each other through love, and faith. There is a lot of love and unity between this village 'Dharmasthali', 'Siddhavanam' and 'Padmaghtam'.
Now there is a temple in Dharmasthali which is under Basava. Bollywood actor Sonu Sood is playing Baswa's character in the film. Since the temple is in the possession of Basava, he runs his own. He is a tyrannical type of person.
The people of Padmaghatham village are associated with Ayurvedic living, but they are not allowed to come to this temple. Now in such a situation, it is in the hands of Acharya how he supports people in fighting for their rights.

Chiranjeevi plays Acharya in the film. Ram Charan plays Siddha in the film. It is interesting to see how Siddha's entry is made in all these stories in the film.
Review and Acting of the Movie:
Watching the father-son duo on screen is a different experience. The talk of the seasoned actor Chiranjeevi is unique. Ram Charan is also looking amazing on the screen.
But the film is quite weak in many respects. Seeing Siwa's film Acharya, the work of his old four films seems much better. In such a situation, it would not be wrong to say that his film Acharya is proving to be weak as compared to other films.
From story to direction, there are minor shortcomings. Screenplay is very weak. There are some scenes in the film that could have been made more interesting, but this was not done.
The only speciality left in the film is that Ramcharan and Chiranjeevi can be seen together on screen. Audiences will come to theatres to see their favourite stars.
In the film, the song Banjara is in the second half, from where the real work of Ram Charan also begins. There are few such scenes of the film which are being liked by the audience, they can be counted on the fingers.