Adam Johnson Video: Nottingham Panthers ice hockey star dies after skateblade slit his throat in live game
Adam Johnson's death took place during the Nottingham Panthers vs Sheffield Steelers match on Saturday.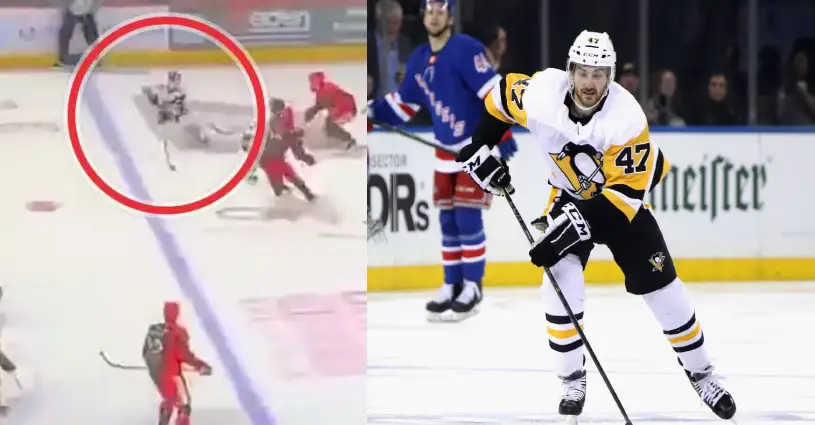 -

In a horrific development, Nottingham Panthers ice hockey player Adam Johnson died at the age of 29 in a freak accident during a live game. The incident took place on Saturday, during a live match in front of the crowd after a skate blade reportedly slashed his throat in a horrific game injury. As soon as Adam Johnson was seen bleeding from his throat, horrified fans were asked to leave the stadium in Sheffield following the "major medical emergency". Now, Adam Johnson's video or Adam Johnson accident video is going viral on social media and it is now grabbing global headlines with fans literally in shock over the incident.
What happened to Adam Johnson?
As per reports, Adam Johnson's death took place during the Nottingham Panthers vs Sheffield Steelers match. The Nottingham Panthers vs Sheffield Steelers match had to be abandoned. In the viral Adam Johnson video, the player was seen colliding with another person when he was trying to score. The collision was so horrific that he fell down on the ground accidentally slitting his throat with skate blade. The 29-year-old was seen getting rescued by other team members when they saw Adam Johnson bleeding into the arena.
The Nottingham Panthers took to their official social media handle and paid their condolences saying, "The Nottingham Panthers are truly devastated to announce that Adam Johnson has tragically passed away following a freak accident at the game in Sheffield last night."
In their detailed statement, the Nottingham Panthers said, "The Panthers would like to send our thoughts and condolences to Adam's family, his partner, and all his friends at this extremely difficult time...Everyone at the club including players, staff, management, and ownership are heartbroken at the news of Adam's passing. Our thoughts are also with the fans and staff of both clubs, especially those who attended or were following the game, who will be devastated following today's news."
"The Panthers would like to thank everyone who rushed to support Adam last night in the most testing of circumstances. Adam, our number 47, was not only an outstanding ice hockey player, but also a great teammate and an incredible person with his whole life ahead of him. The Club will dearly miss him and will never ever forget him. We ask that the privacy of Adam's family and friends, and Els veryone at the club is respected at this difficult time as we all seek to come to terms with our grief," added the Nottingham Panthers.
Fans react to Adam Johnson's death
A user wrote, "Anyone who thinks this was intentional has never played hockey before. This was an accident with a horrific outcome."
One more user wrote, "The league will have to give this a close look. There seemed to be a collision right before the spin and kick to the throat. I would hate to accuse a player of wreck less homicide if it was a hockey accident. If they determine it was purposeful, then he needs to be prosecuted and kicked out of the league."
Another user wrote, "Sad. The fact he tried to skate it off tells me that hockey players are the toughest athletes on the planet. Prayers to team, players, family"
Watch Adam Johnson's accident video