Adani NDTV takeover: Ravish Kumar shuts trolls' speculations about his resignation, takes dig at PM Modi & Akshay Kumar
Ravish Kumar shuts all the trolls talking about his resignation, calls himself a zero TRP anchor.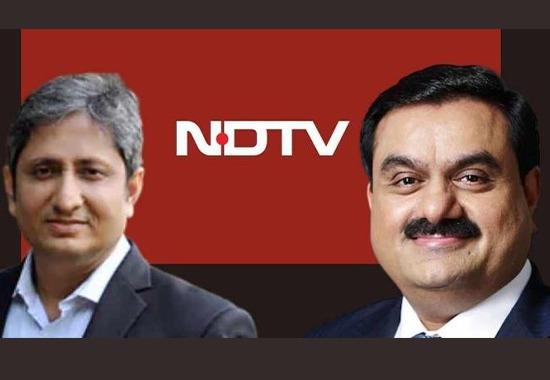 -

The Senior Executive Director of NDTV has slammed all the trolls and websites talking about his resignation from NDTV.

This news started doing rounds after the Indian business tycoon, Gautam Adani acquired 29.18% stakes in the news channel NDTV Ltd. The founder of the channel Prannoy Roy and Radhika Roy continue to hold 32.26% stakes in the channel.

Ravish Kumar after all the speculation of him leaving NDTV after Adani buys its stakes came to his Twitter handle and clarified that he is not giving any resignation. He through his tweet also took a dig at the PM of the country and actor Akshay Kumar.

He wrote in his tweet, "My resignation is a rumor just like PM Narendra Modi agreeing to give me an interview and Akshay Kumar waiting for me at the gate holding famous Mumbai mangoes in his hands. Yours, Ravish Kumar, World's first and most expensive zero TRP anchor."
माननीय जनता,

मेरे इस्तीफ़े की बात ठीक उसी तरह अफ़वाह है, जैसे प्रधानमंत्री नरेंद्र मोदी मुझे इंटरव्यू देने के लिए तैयार हो गए हैं और अक्षय कुमार बंबइया आम लेकर गेट पर मेरा इंतज़ार कर रहे हैं।
आपका,
रवीश कुमार,
दुनिया का पहला और सबसे महँगा ज़ीरो टीआरपी ऐंकर

— ravish kumar (@ravishndtv) August 24, 2022
Ravish Kumar has always been a staunch critic of the Modi government and Adani who is regarded as close to the Modi government by the opposition when took stakes in the NDTV channel, it somewhere hit the people that this might create a drift between them.
After Adani entering NDTV news started making the headlines netizens also gave entertainment therapy to the people on Twitter.
Here are some memes which went viral
Adani group acquire @ndtv, frustrated Ravish Kumar on Prime time. pic.twitter.com/EwMShFgowj

— Rofl_Baba (@aflatoon391) August 23, 2022
*Adani buys the NDTV*
Ravish Kumar be like #AdaniGroup pic.twitter.com/wHFwkM8dq1

— D Jay (@djaywalebabu) August 23, 2022
Amazing trolling is going on Twitter about Ravish kumar & NDTV. I liked this one the most.#NDTV #NDTVSold #RavishKumar .@ravishndtv #MEMES pic.twitter.com/x2F9hgKEX6

— Deepanshu Arora (@dondeepu1234) August 24, 2022
NDTV Headquarters right now pic.twitter.com/RS2XLhGCNA

— Rajabets India🇮🇳👑 (@smileandraja) August 23, 2022