Published On
Alia Bhatt, Ranbir Kapoor daughter's name, meaning & everything we know so far
Ranbir Kappor and Alia Bhatt have named their first child 'Raha' which is given by Neetu Kapoor
Author :
Guneet kaur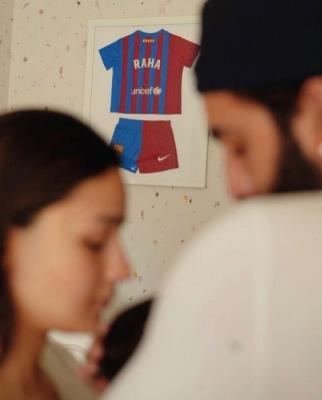 The star couple of Bollywood Alia Bhatt and Ranbir Kapoor on 6th November 2022 were blessed with a baby girl at HN Reliance Foundation Hospital. Soon after this, Alia Bhatt and other family members took to their Instagram to share news of arrival of angel in their house. From the time Alia Bhatt shared news of arrival of their baby, fans were not at calm and wanted to know the couple would name their daughter.
The wait finally got over when Bollywood actress Alia Bhatt shared the name of her baby girl on Instagram with the cutest post ever. She posted a blurred picture of her, Ranbir and their daughter. One could clearly see the name 'Raha' on the FC Barcelona jersey hanging on the wall behind them. Actress wrote in caption that their daughter's Daadi has chosen a wonderful name which is 'Raha.' She then explained meaning of her daughter's name in different languages. Alia Bhatt in the end thanked her daughter for bring joy and happiness into their lives.
Explaining the meaning about Alia Bhatt and Ranbir Kapoor's daughter's name, Raha means a beautiful and divine path. It mans joy, clan, rest, comfort, relief, bliss and freedom.
Alia Bhatt announced welcoming her first child with Ranbir Kapoor on November 6th. She put up a beautiful picture of a lion, lioness and cub. It was captioned as, ""And in the best news of our lives: - Our baby is here...and what a magical girl she is. We are officially bursting with love - Blessed and obsessed PARENTS!!!! Love love love Alia and Ranbir."
Alia Bhatt and Ranbir Kapoor tied knot on April 14, 2022 soon after which in month of June the couple announced their pregnancy.
Here is Alia Bhatt's post in which she revealed name of her daughter