The song 'All Bamb' by Amrit Maan and Neeru Bajwa has been turning heads since its release, and now that it has finally made it to the music charts, the excitement has already grown. Yes, the official video for Amrit Maan's album title tune, "All Bamb," has been released, and it has quickly captured the audience.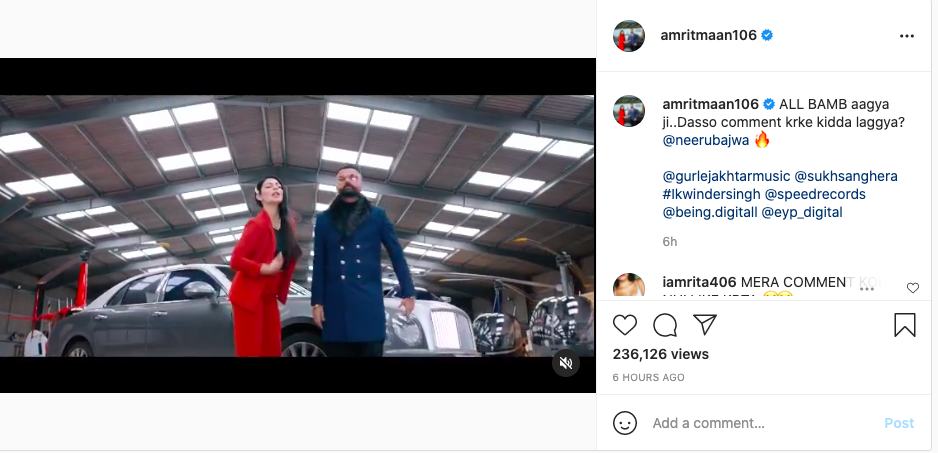 In their swag-filled personas, Amrit Maan and Neeru Bajwa star in the song. On the one hand, Neeru compares herself to a sophisticated dose of scotch that hits you slowly but powerfully, whereas Amrit Maan compares himself to a tequila shot in the song. So they're really two sides of the same coin. Furthermore, t
he cheerful music and amusing lyrics are simply too engaging to miss.
Also Read: Punjabi Singer Jazzy B's Twitter Account Blocked In India On Government Request
The song was written and composed by Amrit Maan, and the music was composed by Ikwinder Singh. Gurlez Akhtar is the female vocalist, and Sukh Sanghera directed the video, which also features Amrit Maan and Neeru Bajwa. See video here.


Amrit Maan and Neeru Bajwa have collaborated on two films and a music video. Everyone is enchanted by their chemistry every time they appear on screen together. In fact, it appears to be getting stronger every time they collaborate. It's no surprise that the audience was anticipating the song.

Meanwhile, Amrit Maan and Neeru Bajwa have significant films coming up in the near future. The former will star alongside Sidhu Moosewala in Taranvir Jagpal's film "Gunah," while the latter has films like "Snowman," "Beautiful Billo," "Paani Ch Madhaani," and others in the works. As soon as the Covid crisis is resolved, all of the films will be given a release date.