Published On
Amber Heard reveals Johnny Depp tortured her with "Bottle", was hunting for cocaine in her 'private part'
Amber Heard vs Johnny Depp: Today the whole world is feeling the pain of the poison dissolved in the relationship between Amber Heard and Johnny Depp.
Author :
Rohit Gupta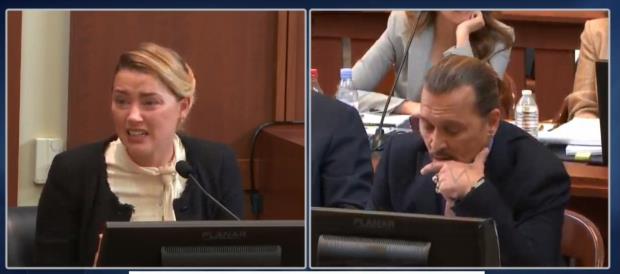 Amber Heard vs Johnny Depp: Today the whole world is feeling the pain of the poison dissolved in the relationship between Amber Heard and Johnny Depp. The kind of revelations being made in the courtroom regarding this ex-couple in the defamation case is shocking. Of course, from social media to fans, everyone is divided into two parts.

But listening to what Amber Heard has now said in the courtroom about this relationship that has reached the height of physical and mental abuse, perhaps even the stone will be shivering for a moment. The court will decide the truth and the lie, but it is also important to know from where the tangle of the ends of the relationship started.
Crying Amber Heard in Court ( Amber Heard Testimonyin Court) Referred to the incident when Johnny Depp raised his hand on his wife for the first time. Amber's testimony is a lesson for all the women around the world who continue to suffer domestic violence in the hope that perhaps one day the person she loved the most in the world will apologise.
Ember recounts how Johnny first raised his hand at her for making fun of a tattoo, and then how the time came when Johnny, in search of his cocaine, allegedly tortured Amber by putting a finger in her private part.
When Johnny Depp beat Amber Heard for the first time
In the courtroom, Amber was first called to the Witness Box to testify in this defamation case. Amber told the court that her relationship with Johnny Depp was like a magical story until a period of violence broke out.
The actress said that Johnny raised his hand for the first time when she asked about one of her faded tattoos, what is written on it? Amber says, 'She said 'vino' and he slapped me in the face. I didn't know what was happening. I just kept looking at him. I thought it was a joke.' Amber told the court that that day Johnny slapped her twice and abused her, 'You think this is funny?'
That tattoo was in the name of Johnny's ex-girlfriend


According to the 'People' report, Amber Heard told the court, 'I was just laughing at that time because I thought it was a joke. But it was an incident that I will never forget. From there my life changed. Amber Heard had mentioned tattoos and the reason for this in her testimony earlier as well. On Johnny's tattoo, Vino refers to Winona Ryder, who was his ex-girlfriend.
Amber Heard cried as she recalled that painful day

Amber told the court that Johnny had assaulted her hundreds of times after that first incident. Especially when he was under the influence of drugs and alcohol. Referring to a weekend in May 2013, what Amber said is the most gruesome.
Amber said, 'Johnny was very angry that day. We went out on a weekend. He accused me of unnecessarily inviting another woman. That evening, Johnny tore my dress. Tore off my underwear and put my fingers inside my vagina. He was there looking for his drugs and cocaine.
Amber's doctor also testified

Earlier, psychologist Don Hughes also testified in court. He had told me that Amber had mentioned this incident during a session. Ember told how Johnny Depp put his fingers in Ember's vagina to find cocaine.
On the other hand, 58-year-old Johnny Depp testified in the first trial. He has denied all the allegations and said that he never raised his hand against Ember Heard. Never hit her, but it is Amber, who has treated Johnny badly on several occasions.
Divorced after a year of marriage

Johnny Depp and Amber Heard, stars of the 'Pirates of the Caribbean franchise films, started dating in 2012. Both got married in 2015 and just a year later, in 2016, both of them separated. This defamation case is going on between the two.
Johnny sues Amber Heard for $50 million in defamation. Johnny claims that Amber has accused him of domestic violence, abuse and drug addiction to defame him. Amber Heard has also filed a $100 million suit against Johnny Depp.