Published On
What Amritpal Singh said? Christian community stage protest in Jalandhar over Waris Punjab De chief's controversial comment
The Christian community on Monday staged a protest at PAP Chowk Jalandhar against Waris Punjab De President Amrtipal Singh and demanded big action against him Author :
Ujjwal Samrat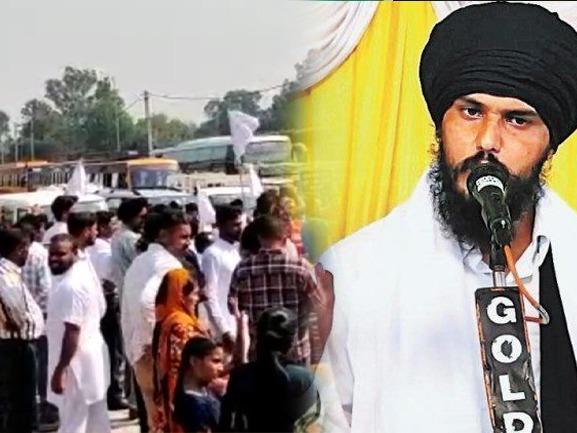 Infuriated by Waris Punjab De President Amritpal Singh's remarks, the Christian community on Monday staged a protest against him and demanded big action against him. People belonging to Christian communities from different districts came together to stage protests against the 'Pro Khalistan' leader Amritpal Singh. Protestors reached Jalandhar's PAP Chowk. Notably, the Christian community was about to block the National Highway, however, an overnight meeting with Police officials changed their decision and the venue was shifted to PAP Chowk of Jalandhar.
Jatinder Masih Gaurav (Chief of Rashtriya Masih (Christian) Samaj), who was protesting during this, said that our protest is not against the Sikh brotherhood but only against Waris Punjab De Chief Amritpal Singh, who has made controversial remarks on Lord Jesus. He further said that Amritpal has incomplete knowledge and incomplete knowledge is injurious to health. He said that action should be taken against Amritpal, if it is not done then a big step will be taken after the meeting on behalf of the Christian brotherhood.
DCP Jaskaranjit Singh Teja also reached the protest site and stated that efforts are being made by some of the protestors who attempted to completely close down PAP Chowk, however, the Police convinced them not to do so. Furthermore, Teja said that he assured the Christian community to take the matter of Amritpal Singh to the higher officials and they will be informed accordingly.
Now, the question arises, what actually Amritpal Singh said that sparked a protest and fumed the Christian community?
Will Amritpal Singh be arrested? Complaint filed against Waris Punjab De Chief; probe on
Notably, there are many speeches of Amrtipal Singh that have been termed instigating or hate speech, therefore, which speech fumed the Christians is difficult to say. However, a video of Amritpal Singh's remarks on Christians has been going viral on Twitter. In the viral video, Amrtipal Singh can be heard asking the public to put a board in every village restricting the entry of Christian pastors. In another video, Amritpal Singh can be heard saying, "Jesus who could not save himself, how he will save everyone else?"
Radical Sikh #AmritpalSingh telling Sikhs in india Punjab don't allow Christian pastors in sikh towns international community needs to pay attention on those radical Sikh leadership @TheHarrisSultan @the_stoic_life @Shilpa_ChillPa @Acts17 @jihadwatchRS @UNHumanRights pic.twitter.com/BZVApxawy7

— Munda Sialkoti (@mundasialkoti47) October 16, 2022