Published On
Amritsar: Bloody clash between Nihang and Dera Beas followers left several injured; details inside
After the Nihang were barred from entering the Dera territory with their cattle the situation between the two groups took a bloody turn
Author :
Tushar Singh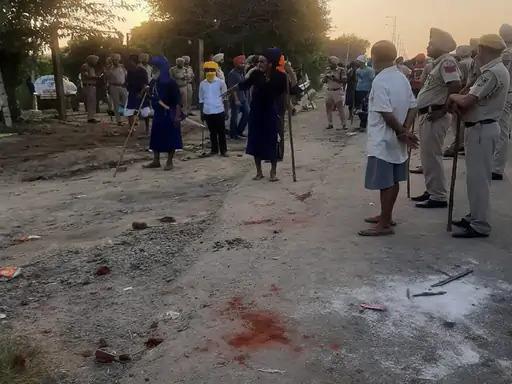 A bloody scuffle has erupted between Nihang and supporters of Dera Beas in Amritsar this evening. As per the reports, the struggle between the members of the Baba Pala Singh group and Dera followers surfaced after the herd of cattle passed through the designated lands of Dera.
After the incident was reported the situation turned sensitive in Beas leading to the injury of the police personnel as well.
After the Nihang were barred from entering the Dera territory with their cattle the situation between the two groups took a bloody turn.
The police were engaged in resolving the matter and somehow succeeded to bring the situation under control for now.
It is not that the first time the Tarna group has taken their cattle through that route. A similar matter was reported on Saturday but was soon brought under control with police intervention.
The two groups have engaged in these sorts of verbal exchanges earlier as well but have resolved the matter among themselves.
SSP Rural Swapna Sharma informed that the land of Nihangs and Dera Beas is nearby. Later in the afternoon, the animals of the Nihang Tarna Dal came to the ground of the tent.
After this, there was a commotion and the clashes escalated. The firing also took place between both sides. After this the police also had to lathi-charge. 6 to 8 people are reported to be injured.
Out of which 4 are Nihang. Those who have been admitted to hospitals. The situation was tense after the quarrel, but now the atmosphere has calmed down.
On the other hand, Civil Surgeon Dr. Charanjit says that the injured have been admitted to Civil Hospital Baba Bakala, Civil Hospital Amritsar, and Guru Nanak Dev Hospital.