Amritsar: Massive crowd erupts at Amritpal Singh's Khalsa Vaheer; Watch video
'Waris Punjab De' Chief Amritpal Singh has reached Golden Temple to initiate his program of Khalsa Veheer.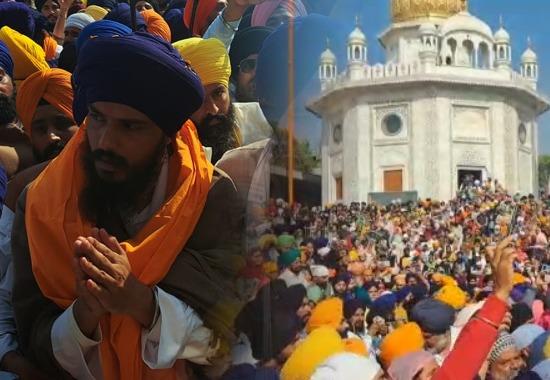 -

As per latest information 'Waris Punjab De' Chief Amritpal Singh has reached Golden Temple to initiate his program of Khalsa Veheer. Reportedly, this program will start from Shri Akal Takht at Harmandir Sahib after 'Ardaas' and then will go to 13 more cities of Punjab during the campaign. Khalsa Vaheer will end at Shri Anandpur Sahib.

During the launch of Khalsa Vaheer, Amritpal Singh stated that in this program Sikhism will be promoted and its political consciousness will be strengthened. He further added that during this people will be invited to live as 'Amritdhari' and stand against social evils. It is also an attempt to connect youth of Punjab drowning in drugs with Sikhism. As seen in the video, massive crowd gathered during flagging off of Amrtipal Singh's Khalsa Vaheer at Shri Harmandir Sahib. Waris Punjab De Chief has announced that by this evening it will reach Jandiala Guru

Latest updates on Khalsa Vaheer reveals that in first phase Vaheer will start from Golden Temple and end at Shri Anandpur Sahib before the month of December. During this Veheer will be stopping at Jandiala Guru, Baba Bakala Sahib, Khadoor Sahib, Goindwal Sahib, Sultanpur Lodhi, Kapurthala, Kartarpur, Jalandhar, Phagwara, Bahiram, Nawa Shahar, Balachaur, Ropar.

Watch Video
Waris Punjab De Chief Amritpal Singh's Khalsa Vaheer begins from Shri Harmandir Sahib#amritsar #goldentemple #warispunjabde #khalsavaheer #truescoop #truescoopnews #AmritpalSingh pic.twitter.com/6J4Z27ujPo

— True Scoop (@TrueScoopNews) November 23, 2022
Who is Amritpal Singh?
On September 29, 2022, Khalistani-supporter, 29-year-old Amritpal Singh became the President of 'Waris Punjab De'- an organization founded by late Punjabi actor Deep Sidhu that aimed to protect the rights of Punjab and raise social issues. Notably, Deep Sidhu who was also one of the accused in the 2021 Republic Day riots, died in a road accident on 15th February 2022. Interestingly, reports suggest that Deep Sidhu's family has distanced itself from the new president Amritpal Singh who is known for openly endorsing Khalistan and slain Khalistani Jarnail Singh Bhindranwale.
Notably, Amritpal Singh took charge as the President of the 'Waris Punjab De' organization on Thursday in a 'Dastaarbandi' ceremony held at Moga's Rode which happens to be the native village of the slain Bhindranwale. For the unversed, Amritpal Singh was based in Dubai, however, he came back to Punjab months after Deep Sidhu's death. To portray himself as his so-called 'inspiration', Amritpal also dresses like Bhindranwale and is accompanied by armed men. He will now be leading the organization formed by late actor Deep Sidhu.