Published On
Amritsar: Massive fire breaks out in Guru Nanak Dev Hospital; explosion due to short circuit
Massive fire broke out in Amritsar's Guru Nanak Dev Hospital, all pateints have been evacuated safely
Author :
Samriti Bharadwaj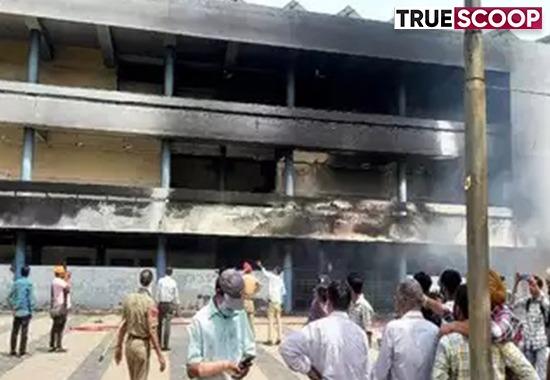 A transformer located on the backside of the OPD behind Guru Nanak Dev Hospital in Amritsar caught fire. One transformer caught fire, and then another and the smoke from the fire quickly spread throughout the hospital, causing panic among patients and their families.

Many patients in various wards of the hospital rushed outdoors and onto the roads, and lay there. According to the patients, the smoke from the fire made it impossible to breathe, but no one helped them, they came out and saved their own lives.


According to reports, the fire originated in the transformer situated beneath the structure, causing an explosion after the transformer caught fire. Rajiv Devgan, the principal, arrived at the location. The building's patients were quickly evacuated. No unexpected adverse occurrence has been reported so far during the fire incident. They are attempting to extinguish the fire. Patients who had been admitted to the hospital had been evacuated.


The hospital management safely evacuated all of the patients on time. The police administration began an investigation by going to the location, and the matter is now
under control.


The Fire Department and Cabinet Minister Harbhajan Singh, as well as the MLA for the region, Kunwar Vijay Pratap Singh, arrived at the scene after receiving information about the fire. About 12 fire tenders battled the blaze with considerable difficulty, but the structure was destroyed. The situation is being probed, according to Harbhajan Singh.