Published On
Amritsar: Pharmacy store robbed at gunpoint, CCTV viral
The accused stole cash of Rs. 35,000 during robbery and then fled from scene
Author :
Guneet kaur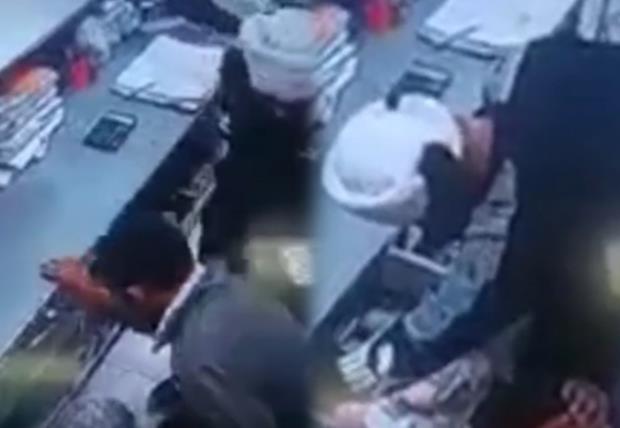 As per shocking information that has surfaced from Amritsar, another robbery took place on Thursday night. The robbery incident reported is from a pharmacy store where robbers at gunpoint looted Rs 35,000 from youth present there. Police have started an investigation.
Reportedly, incident took place on Thursday night at a pharmacy shop just 200 meters away from Circuit House Chowki on Court Road New Rialto Chowk, Amritsar. Shop owner revealed that loot happened at around 9:30 pm. While explaining the incident owner Maninder Singh Aulakh said that two youths came inside the shop and started roaming soon after shop was empty, they came near cash counter and pointed gun towards him. Accused asked both the boys working in shop to stand on one side silently with their hands on their heads.
The accused then opened cash drawer, took out all the money that was kept inside and fled from scene. Soo after this, police was called and informed about robbery.
ACP Varinder Singh Khosa reached the spot during on getting information. He talked to witnessed present there during loot. He has stated that CCTV is under police custody and matter is being investigated. He assured to catch the accused soon.
A few back only another robbery incident took place when 5 masked miscreants robbed people late at night who were returning from a wedding. The robbery took place at around 11 pm in which 5 miscreants wearing masks on their faces came riding on a motorcycle then surrounded a person who was returning from wedding along with his partner on a bike. Accused stole their mobile phones, wallets and all the cash they had with them. The incident reported is from 100 feet road of Amritsar.
Watch Video
Loot at gunpoint of Rs. 35,000 in Amritsar, watch CCTV#amritsar #robbery #amritsarrobbery #robberyatgunpoint #CCTV #truescoop #truescoopnews pic.twitter.com/L0aVgE09WK

— True Scoop (@TrueScoopNews) November 25, 2022