Appeal by parents on Moosewala's Antim Ardas: Don't bow down, don't offer money, only grow plant
Moosewala's parents appeal not to bow down, not to offer money, and only to grow plants.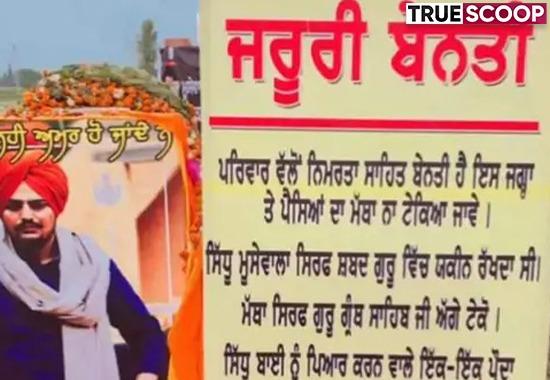 -

Fans are gathering at the tomb of Punjabi singer Sidhu Moosewala in village Musa. Fans are also offering money by bowing their heads there. Seeing this, now the family has come forward. The family has put up a board there. In it, it is said that the family is requested not to bow down with money at this place. Sidhu Moosewala only believed in the word Guru. Bow down head in front of Sri Guru Granth Sahib Ji only. Grow plants if you love Sidhu.




Sidhu Moosewala, the tomb built at the cremation site, was shot dead on May 29 in Jawaharke village of Mansa. After this, his last rites were performed at the farm. This was the same field that Moosewala himself used to cultivate. After the rites, a tomb has been built in his memory here. Where the fans of Moosewala are coming and worshiping their favorite star.




A day before the murder of Moosewala,

the AAP government of Punjab had reduced his security. 2 out of 4 gunmen were withdrawn. However, after his death, there is tight security in his house. His parents have also been given security cover. Police security has also been imposed at his gravesite.