Published On
Argentina's VP Cristina Kirchner's assassination attempt failed after man's gun gets jammed; Video Viral
In the Argentina Vice President assassination viral video, it can be seen when Cristina Kirchner left her vehicle and approached supporters, a man aims a handgun at point-blank range
Author :
Ujjwal Samrat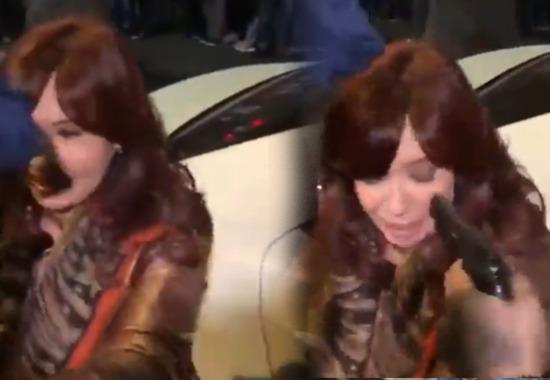 Argentina's Vice President Cristina Fernández de Kirchner was indeed riding on her luck as her assassination attempt was failed after a man pointed a gun at her head at point blank on Thursday. Argentina's Vice President Cristina's assassination attempt was done on Thursday when she was greeting her supporters outside her Buenos Aires home. The Argentina VP assassination reportedly failed as the gunman's handgun was jammed. In fact, Argentina VP assassination attempt was caught on camera. And ever since then, Argentina VP assassination attempt video has gone viral on social media with netizens expressing their shock.
In the Argentina Vice President assassination viral video, it can be seen when Cristina Kirchner left her vehicle and approached supporters, a man aims a handgun at point-blank range i.e. close to her face. In fact, the gunman even pulled the trigger but the gun did not fire. Therefore, she wasn't harmed in the incident. Notably, after the Argentina Vice President assassination video went viral, the country's President Alberto Fernández stated the homicide attempt failed because the gun did not fire.
Watch Argentina VP Assassination attempt video
The vice president of Argentina was nearly assassinated today. It appears the gun jammed and saved her.

— 🥀_Imposter_🕸️ (@Imposter_Edits)
pic.twitter.com/pI8aUCb26rSeptember 2, 2022US Bees Stung Case: 20-years-old on ventilator after being attacked by 20,000 killer African bees
In the Cristina Kirchner assassination attempt incident, the President further said, "It is the most serious incident since we recovered democracy in 1983" and urged political leaders, and society at large, to repudiate the incident.
Notably, the man, whose identity was not released by authorities, was detained seconds into the incident.
It is pertinent to mention here that, Cristina Kirchner assassination attempt came at a time when a prosecutor called for a 12-year sentence for the Argentinian Vice President as well as a life-long prohibition in holding public office as part of a case involving alleged corruption in public works during her 2007-2015 presidency. Fernández, who is not related to the current president, has denied all charges.
It is pertinent to mention here that Argentina Vice President assassination attempt is a serious concern as a few months back former Prime Minister of Japan Shinzo Abe was killed in a similar fashion. Shinzo Abe was assassinated by a gunman when he was addressing a public gathering in Japan.