Published On
Arjun Kapoor lashes out against news portal for spreading Malaika Arora's fake pregnancy news
Pinkvilla has taken down the written piece from its site after the fuming response from the actor Author :
Tushar Singh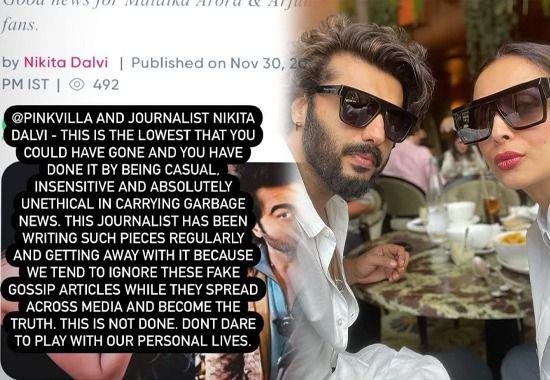 Arjun Kapoor and Malaika Arora, the power couple of B-Town have often made the headlines owing to their chemistry and romantic posts, however, this time the case is a bit nasty one associated with a media reportage hurting their personal space.
Pinkvilla, an entertainment news portal in one of its recent reports said that Arjun and Malaika are expecting their first child which led to the outburst of Arjun's furor. Taking to his Instagram handle Arjun wrote a short note ending with a cautious warning, "Dare not to play with personal lives."
Arjun Kapoor is one of the Bollywood faces who generally don't respond to such reports, trolls but this time it was indeed too personal. Pinkvilla in turn has taken down the article from their site which was titled, "Exclusive: Is Malaika Arora Pregnant?"
A source close to Pinkvilla spilled the beans on Malaika Arora and Arjun Kapoor expecting their first child together. It was October this year when the couple went on a vacation to London and that's when they revealed their pregnancy to their close friends and family.
Yay, we're so happy for Arjun Kapoor and Malaika Arora. The actress has more than one reason to celebrate with her own reality show, Malla will also soon be embracing motherhood all over again.
Malaika has a 20-year-old son Arhaan with his ex-husband actor Arbaaz Khan even after their breakup the former husband-wife duo has been seen numerous times together in public and at the airport bidding goodbyes to their son who stays the US and is pursuing higher education.