Published On
#ArrestJubinNautiyal: Twitteratis demand arrest of famous singer, know the reason behind the trend
The trend started by the Twitteratis against Jubin Nautiyal is related to his concert in the US Author :
Guneet kaur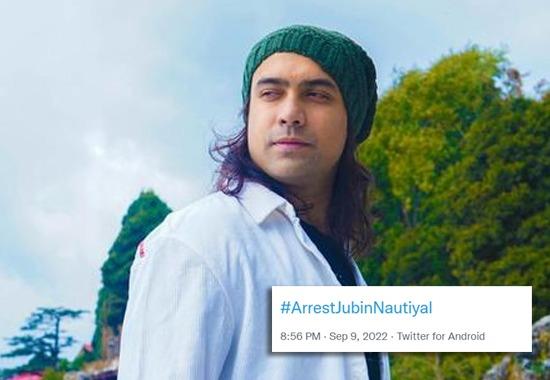 There is a demand that is spurring up from 9 September to arrest Jubin Nautiyal on Twitter. Bollywood's famous singer Jubin Nautiyal has a lot of hit numbers which includes 'Dil Galti Kar Baitha Hai', 'Tum Hi Aana', 'Bewafa Tera Masoor Chehra', and 'Rata Lambiyana' and many more hit songs.
Jubin Nautiyal, who made a special place in the hearts of people by singing these songs, is caught in all-new trouble. Suddenly, due to some reason, the fans don't seem to be very happy with him.
Zubin's concert is going to happen in the US soon but just a few days before the concert Zubin is being massively trolled on social media. The reason behind this is the name of a person involved in the organizer of Zubin's concert.
A poster of Jubin Nautiyal's concert has been doing rounds on social media. In this poster, information about Zubin's upcoming concert which is on 23 September has been provided. This poster has been shared by a person named Rehan Siddiqui on Twitter. Sharing this poster, it is written- "My favorite singer is coming to Houston. Great job Jai Singh. Waiting for your wonderful presentation."
Jubin Nautiyal is being trolled because of the name Jai Singh. It is pertinent to mention that Jai Singh is in the wanted list of Chandigarh Police for the last 30 years. He has been accused of video piracy and drug smuggling. Although Jai belongs to Punjab at present he is settled in the US.
Famous singer Jubin Nautiyal is being trolled on social media because Wanted Jai Singh is one of the organizers of his concert that is going to be held in the United States on 23rd September.
Since the time, the poster has been revealed, #ArrestZubinNautiyal is trending on social media platforms.
Here are some of the tweets
I am surprised to hear this. @JubinNautiyal signed a contract with ISI agents to perform in Houston. Woah..he didn't care about the country. I hope he will shift to Pakistan soon. India don't need such losers. #ArrestJubinNautiyal pic.twitter.com/HgmSx970Aq

— Rajinj (@Rajinj1) September 9, 2022
Seems like Bollywood will never learn.
Latest is @JubinNautiyal, he's working with ISI agents blacklisted by GOI.
Here's the letter issued by @HMOIndia on June 2020 asking Indian artists not to work with Rehan and his associates... #ArrestJubinNautiyal pic.twitter.com/Yb0dBFvThT

— Mr Sinha (@MrSinha_) September 9, 2022
#ArrestJubinNautiyal
Pak ISI agent & Jai Singh khaliatani r criminals

Now jubin is going to participate in a show organized by them

Not only him many urduwoodiyas worked with them

Why they love to work with anti Indians? pic.twitter.com/UcTh5QMeSH

— Shruti (@kadak_chai_) September 9, 2022