Arshdeep Singh trolling: Punjab political fraternity unite in solidarity with speedster post-India's loss vs Pak
The lashing against Arshdeep Singh came out after he missed a catch during the latest match in the Asia Cup 2022.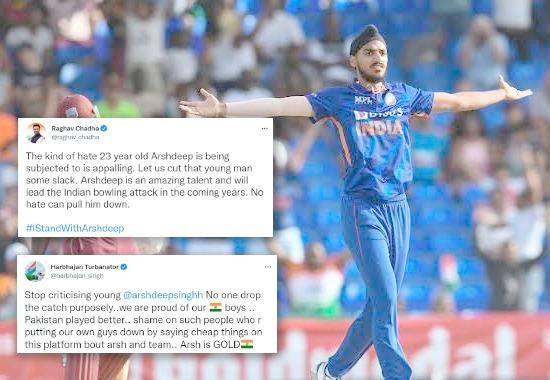 -

It is very disheartening to see one of the best bowlers of the Indian Cricket Team being brutally trolled by the people. The lashing against Arshdeep Singh came out after he missed a catch during the latest match in the Asia Cup 2022.

It was the third ball of the 18th over when Arshdeep Singh caught the ball but it dropped from his hands which was disappointing for everyone to watch. If the catch had been taken by the bowler, Ali would have gotten out at zero.

After the trolling, famous Indian cricketers and ministers of the government in Punjab have come out in the support of the cricketer.

Harbhajan Singh, Abhinav Mukund, Irfan Pathan and Ministers like Raghav Chadha, Gurmeet Singh Meet, Harpal Singh Cheema, etc came out in the support of the bowler and said that people trolling Arshdeep Singh should have some shame. They further added that it's saddening to see how brutally people are trolling him.

Here are the tweets supporting Arshdeep Singh
The kind of hate 23 year old Arshdeep is being subjected to is appalling. Let us cut that young man some slack. Arshdeep is an amazing talent and will lead the Indian bowling attack in the coming years. No hate can pull him down. #IStandWithArshdeep pic.twitter.com/CL1o4oVSLD

— Raghav Chadha (@raghav_chadha) September 5, 2022
Victory or defeat is given in game. @arshdeepsinghh is upcoming star who carved out niche in short span. Performed excellent against Pakistan. Regressive psyche to troll him on drop of just a catch. Arshdeep is future of Nation. Inspiration for youth. Hate has no place in sports.

— Gurmeet Singh Meet Hayer (@meet_hayer) September 5, 2022
In high pressure situations, mistakes happen all the time. After all we are all but Human. Nobody has the right to criticise or question our young player @arshdeepsinghh. Team India put its best foot forward and they have my best wishes for the matches ahead. #TeamIndia

— Adv Harpal Singh Cheema (@HarpalCheemaMLA) September 5, 2022
Stop criticising young @arshdeepsinghh No one drop the catch purposely..we are proud of our 🇮🇳 boys .. Pakistan played better.. shame on such people who r putting our own guys down by saying cheap things on this platform bout arsh and team.. Arsh is GOLD🇮🇳

— Harbhajan Turbanator (@harbhajan_singh) September 4, 2022
After dropping steve smith in the pune test, i was absolutely inconsolable for hours alone in my room. I really hope @arshdeepsinghh doesnt feel that way. He will be more gutted than anyone else in our country tonight. Lets cut him some slack! #INDvsPAK

— Abhinav Mukund (@mukundabhinav) September 4, 2022
Sports Minister Gurmeet Singh Meet also spoke to Indian cricket team fast bowler Arshdeep Singh's mother Baljit Kaur who is currently in Dubai over the phone and said that Punjab and the whole country is with Arshdeep Singh.
The Sports Minister wished for the remaining matches of the Asia Cup and said that he would personally welcome Arshdeep Singh on his return to the country. He said that Arshdeep is a talented player and a source of inspiration for the youth.
Watch Video