Published On
Artemis 1: NASA's Moon bound mission set for the launch; When and where to watch the second attempt in India
The NASA rocket, complete with a crewless Orion capsule will be set for the mission from the Florida-based Kennedy Space Center
Author :
Tushar Singh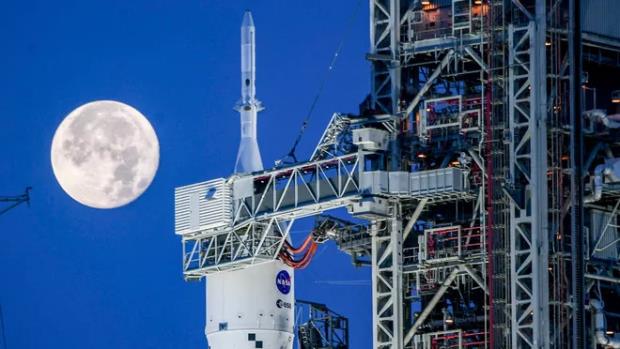 Five days later when the spectators eagerly waited for a historical launch, something they haven't seen in the past half of the century has once again fastened their belts to be a part of the iconic moment in their lifetime as the 1st of three tranche Artemis moon mission is all set to leave after fixing all sorts of glitch it had that delayed the launch today from Monday.
The NASA rocket, complete with a crewless Orion capsule will be set for the mission from the Florida-based Kennedy Space Center, it is the same launch site that saw the launch of Apollo missions which send humans to the moon in the 1960s and 70s.
The mission saw a last-minute delay owing to engine cooling problems, fuel leaks, and other concerns. It was announced by NASA the try will be made on Saturday afternoon with the hope that everything goes well this time.
NASA on its website said, "Meteorologists with the U.S. Space Force Space Launch Delta 45 predict favorable weather conditions for Saturday." It further read, "While rain showers are expected, they are predicted to be sporadic during the launch window."
NASA has determined the next two-hour launch window is Saturday afternoon beginning at 2:17 p.m. ET. The mission around the moon and back is expected to take 39 days. Splashdown for the Orion spacecraft is expected on Oct. 11, according to NASA.
Pak can face protests, instability amid high food, fuel prices: IMF
Several American T.V. media has come up with the announcement to host the launch on their YouTube channels, coverage for which begins at 1.30 PM ET which is 11 PM late at night today in IST.
While NASA will host every single minute detailing of the launch on its official NASA TV, which is scheduled to begin at 5.45 AM, which is 3.15 PM in IST the coverage can also be streamed on the official website of the American space agency.
The answer to what is on board Artemis I? The answer to this comes through NASA's official site which says, A Snoopy plush, Lego mini-figures, and three NASA 'manikins' that is poised to provide some very relevant data for scientists.