Ashneer Grover reveals how BharatPe under Rajnish Kumar pulled out as World Cup 2023 sponsors
Ashneer Grover took to his official X handle and shared how Rajnish Kumar brought Bharat Pe to the grounds especially in terms of Cricket World Cup 2023 sponsorship deal.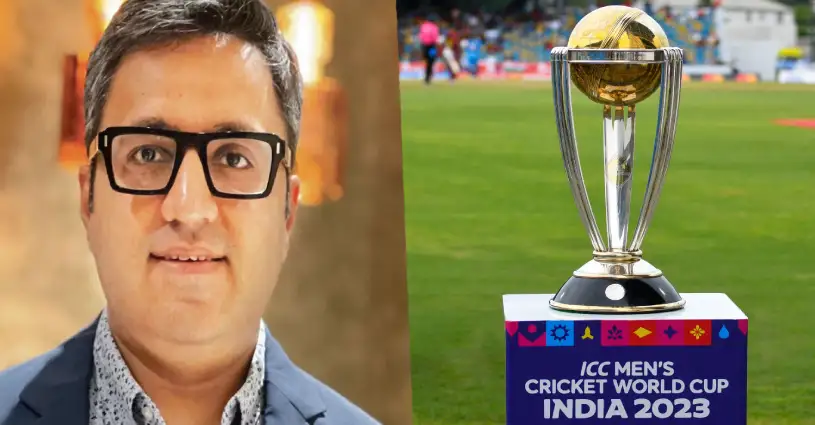 -

Former Shark Tank India judge & investor Ashneer Grover on Saturday shared a World Cup Business Trivia of BharatPe and how Rajnish Kumar botched up the company's sponsorship deal with the ICC. Ashneer Grover on Friday grabbed headlines after he and his wife were detained at Delhi Airport and were later sent back to home after questioning. Immigration officials blocked Ashneer Grover's departure, and that of his wife, to New York on the basis of a lookout circular, or LoC, issued by Delhi Police's Economic Offences Wing.

On Saturday, Ashneer Grover took to his official X handle and shared how Rajnish Kumar brought Bharat Pe to the grounds. "ICC World Cup 2023 has turned out to be great - both in terms of event and India's performance. Every business is beating themselves up that they should have been a sponsor in hindsight. All time high views and excitement ! But do you know 'BharatPe' pulled out of the ICC World Cup 2023 in a year Bharat should win ! Read on.

I had done a 3 year deal with ICC in 2021 . Essentially we as BharatPe we're getting 3 World Cups as Global Sponsor (behind wicket mat) - T20 World Cup Dubai 2021, T20 World Cup Australia 2022, and ODI World Cup India 2023. Deal was for $27 Mn (₹215 crores) - $10 + $7 + $10 Mn.

In Dubai T20 World Cup, I launched 'PostPe' as product - got amazing traction - ₹300 cr business in first few months itself. Ran contests - flew down winners to see matches - employees - investors - ex employees. Great outcome.

I left BharatPe in 2022.

Under Rajnish Kumar - BharatPe had no new product - no business strategy. Went ahead in T20 Australia World Cup 2022 - only took senior employees on company paid vacation - WHO ALL LEFT company within months.

So $17 Mn of $27 Mn spent.

Now comes the main event - ICC World Cup 2023 in India. Great opportunity for branding and engagement with merchants, customers and employees. Only $10 Mn (₹80 crores) to spend. BharatPe PULLs OUT - gives slot to MasterCard. Can you believe it ?!

That's Rajnish Kumar as management. Company spent $10 Mn easily on lawyers against me - but does not have $10 Mn (₹80 crores) for World Cup ! All ego - no business.

Interestingly Rajnish Kumar joined MasterCard India Board around same time as handing over coveted sponsorship to MasterCard on a platter. How could Rajnish join competing business (his agreement barred him from joining any competitor) - and handover such valuable sponsorship and great deal - it's not even related party transaction - it's SAME party transaction !"
What are the charges Ashneer Grover facing?
BharatPe's ex CEO Ashneer Grover is facing serious charges, As per reports, the investigation into alleged fraud at BharatPe has uncovered unexplained payments allegedly made to HR firms by Ashneer Grover, his wife, and other members of their family.
The accused allegedly used backdated invoices to move funds from BharatPe's accounts for payment of commissions for recruitment work, a status report filed by the EOW in the Delhi High Court stated. Rs 7.6 crore was paid to the allegedly fake firms. Rs 1.66 crore was paid as a penalty to Goods and Services Tax authorities. Rs 71.76 crore was allegedly siphoned off via other fictitious transactions. If convicted, the accused could face a jail term from 10 years to life imprisonment.