Published On
'Love never dies': Assam man 'marries dead girlfriend'; Video Viral
Reportedly, a 27-year-old named Bitupan Tamuli married his dead girlfriend, Prathana.
Author :
Ujjwal Samrat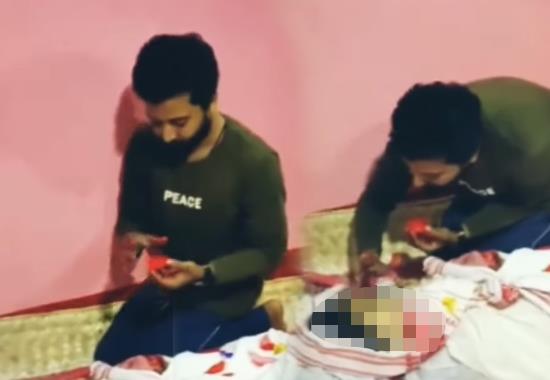 'Love never dies'; a man from Assam turned this quote literally true when he married his dead girlfriend in front of the camera. The heartbreaking footage has taken the internet by storm with netizens talking about the Assam man dead girlfriend video. As per reports, a 27-year-old named Bitupan Tamuli married his dead girlfriend, Prathana. Prathana reportedly died due to her illness at a private hospital in Guwahati on Friday. Not just this but Bitupan even pledged that he will not marry anyone else ever.
In the Assam man marriage dead girlfriend video, it can be seen the 27-year-old man marrying his dead girlfriend. In the video, the man can be seen applying vermilion on the forehead and cheeks of his dead girlfriend, Prathana. Furthermore, the video shows the man sitting right next to his dead girlfriend. He has even put a garland around her neck and another on himself. Reportedly, Subhon Bora, who is a relative of Prathana, was quoted by a local media outlet saying that she had suddenly fallen sick beyond recovery. After the marriage, the video of the heart-rending ceremony was shared on Youtube, and ever since then, it has been spreading like a wildfire.
Watch Assam man dead girlfriend marriage
'Marriage with dead person'
For the unversed, marrying a dead person is highly unusual, however, it is not first of a kind incident. A highly-unusual tradition called Pretha Kalyanam', or 'marriage of the dead' is still kept alive by a few communities in Karnataka as well as in parts of Kerala. "For those who are not accustomed to traditions of Dakshina Kannada this might sound funny but it's a serious tradition here," Youtuber Anny Arun wrote in a Twitter thread that went viral earlier this year. "For those who died in childbirth, they are usually married off to another child who is deceased during the childbirth," he explained.
I'm attending a marriage today. You might ask why it deserve a tweet. Well groom is dead actually. And bride is dead too. Like about 30 years ago.

And their marriage is today. For those who are not accustomed to traditions of Dakshina Kannada this might sound funny. But (contd)

— AnnyArun (@anny_arun) July 28, 2022
..its a serious tradition here. For those who died in child birth, they are usually married off to another child who is deceased during the child birth. All the customs happen just like any marriage. Two families will go to each other's house for the engagement(contd)

— AnnyArun (@anny_arun) July 28, 2022
What is Werewolf Syndrome? MP teen suffering from THIS rare disease
, there will be marriage procession and finally tieing the knots. If you are wondering its easy to fix this marriage, hear me out. Recently groom family rejected a bride because bride was few year elder to the groom!

Anyway I find these customs beautiful.

— AnnyArun (@anny_arun) July 28, 2022