Published On
Baba Farid Medical College's VC, Dr. Raj Bahadur resigns after being insulted by Health Minister; leads to a string of resignations
After VC Dr. Raj Bahadur's resignation, Dr. Rajiv Devgan and Dr. KD Singh also resigned Author :
Guneet kaur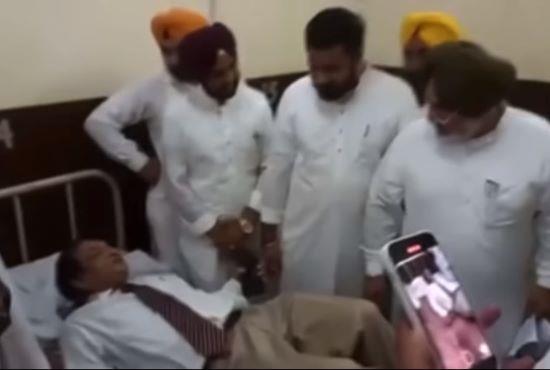 Dr. Raj Bahadur has resigned as Vice Chancellor of Baba Farid Medical College University in Faridkot, Punjab. Health Minister Chetan Singh Jauramajra, who came there yesterday to check, got him in a rage and laid him on a dirty bed. The video was becoming very viral. Later VC sent his resignation late in the night after getting embarrassed.
Dr. Rajiv Devgan, Principal of Government Medical College, Amritsar, and Dr. KD Singh, Medical Superintendent of Guru Nanak Hospital, have sent their resignations to the government too.
Although the reasons for resigning are said to be personal, it is common to discuss that both the officials were upset due to the behavior of the Health Minister after two officers related to medical education and medicine sent their resignations simultaneously.
Health Minister had come to the hospital this month. The hospital was reprimanded by the administration due to the lack of cleanliness here.
Dr. KD Singh is an MS as well as a Professor in the Department of Microbiology. He said that he will not be able to handle the charge of MS due to the heavy workload. At the same time, Dr. Rajiv Devgan is also the Professor in the Cancer Department and the principal of the medical college. He has also spoken of having an excessive workload.

Also read: Cabinet Minister Anmol Gagan Maan tested covid 19 positive
Politically, there has been a ruckus about the minister's performance. Former Congress minister Pargat Singh said that the 12th pass minister of the Aam Aadmi Party publicly insulted the Vice-Chancellor (VC). Apart from Punjab Congress President Amarinder Raja Warring, Akali Dal also objected and asked the minister to apologize.
Former Akali Minister Dr. Daljit Cheema said that Vice Chancellor Dr. Raj Bahadur is an international personality. The misbehavior with them is condemnable. He is a very respected personality.