Published On
Bhubaneswar: Odia actor Prakruti Mishra beaten by Babushaan's wife after being caught in car; Watch
Babushaan Mohanty's wife Trupti lost her calm after she caught her husband and Prakruti red-handed in a car on a busy Bhubaneshwar street.
Author :
Malkit Singh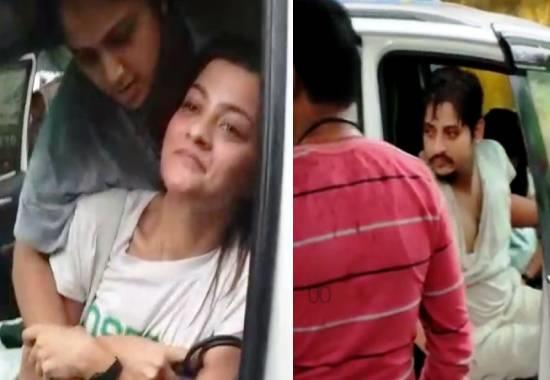 Ruckus took place on the streets of Bhubaneshwar after Ollywood actress Prakruti Mishra was caught red-handed with her co-star Tanmay Mohanty, popularly known as Babushaan Mohanty. Bhubaneshwar viral video has been doing rounds on social media after Odia actress Prakruti Mishra was beaten and harassed by Babushaan Mohanty's wife Trupti. Reportedly, Babushaan Mohanty's wife Trupti lost her calm after she caught her husband and Prakruti red-handed in a car on a busy Bhubaneshwar street.
Prakruti Mishra Babushaan viral video has been spreading like a wildfire on social media and fans are wondering what might have gone wrong that Trupti lost her temper and started thrashing her own husband and her co-actor. In the Prakruti Mishra viral video, fans can see Babushaan's wife Trupti can be seen pulling the hair and assaulting Prakruti. While Prakruti can be seen trying to escape from Babushaan's car, Trupti kept on harassing her.
Finally, when Prakruti escapes from the car, Trupti chased her and stopped her from boarding the auto-rickshaw saying that 'she has ruined her family' hinting toward 'extra-marital affairs' between Babushaan and Prakruti Mishra. However, Prakruti kept on hinting that Trupti has lost her mental ability to think.
Watch Bhubaneshwar Prakruti Mishra Babushaan viral video
Notably, after the incident Trupti reached Kharvel Nagar Police station and lodged a complaint saying, "Our marital life was peaceful until Prukruti Mishra, daughter of Manmath Mishra, came into our life and treated disturbances." Trupti in her complaint alleged that Prakruti established a relationship with her husband Babushaan in order to boost her career which was going downwards due to the lockdown. Furthermore, she caused Prakruti that she supplied alcohol and ganja (Weed) to Babushaan.
In a counter FIR, Kharvel Nagar Police also registered a case under Sections 341, 294, 323, and 506 of the Indian Penal Code on basis of a complaint filed by Prakruti Mishra's mother Krushnapriya Mishra.
Prakruti Mishra reacts after being beaten by Babushaan's wife
In a post written in Odia, Prakruti Mishra stated that she and Babushaan are only friends and they were on their way to catch a flight to Chennai for the announcement of their new upcoming movie. She also denied having extra-marital affair with Babushaan. Her post reads, "Every story has two sides. Unfortunately, we are living in such a society where people blame women before listening anything. Me and my co-star Babushaan were heading for Chennai to attend an event being organised by Utkal Association. During the period, Babushaan's wife along with some goons started heckling the actor and assaulted me physically and mentally. Such behaviour shown by Babushaan's wife is not acceptable to me," she wrote.
Babushaan on the other hand in an interview with Kaling TV stated that he and Prakruti are not in any relationship. The entire incident happened because her wife does not understand the nature of his work. "I was not aware that my family was going through disturbances. If my family has issues, I will not do that film with her (Prakruti). If required, I will not work with any heroines in the future," the actor said in his video statement.
Interestingly, Trupti in her complaint has stated that Babushaan remains intoxicated 24*7 and neither was returning to home nor was he providing any financial support to the family. Babushaan and Trupti were blessed with a baby boy in 2021 and ever since then, things started turning sour between the couple.