Published On
Biden's "Pandemic is Over..." remark implies relief from masks and testing? A detailed look at President's comments through data
As per the data from the U.S. Centers for Disease Control and Prevention, nearly 400 people a day continue to die from COVID-19 in the United States, with WHO still emphasizing on sharp vigil on the cases
Author :
Tushar Singh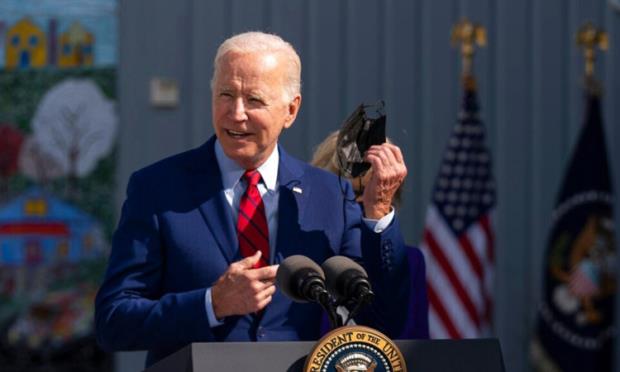 With the country still battling the wrath of COVID and death being reported from several pockets of the country. President Joe Biden's remark of "The Pandemic is over" has been taken by surprise by people around the country, including health experts and government officials."
One of the top epidemiologists in the US Dr. Eric Fegl-Ding took to Twitter to confront the president, sharing the clip of the interview where he made the remark on COVID he wrote, "Heck no. With all due respect, @JoeBiden — you're wrong.
The pandemic is not over. Almost 3,000 Americans are dying from #COVID19 every single week. A weekly 9/11 is a very big deal. Don't even get me started on #LongCOVID—wreaking havoc on millions more."
In an interview with CBS, President Biden acknowledged that though the pandemic is over but the country has still not gotten over COVID this as he said.
But, does the President's remarks implicate that you must lose ground to ensure safety against the virus that has wreaked havoc over the years in the world including the deadliest form in the US.
As per the data from the U.S. Centers for Disease Control and Prevention, nearly 400 people a day continue to die from COVID-19 in the United States.
In a stretch of over 17 tweets, Dr. Eric tried to explain why people still need to beware of COVID and how the virus is still deadly to people's lives.
The answer to why safety is still essential against COVID can be found in the health bulletin of the CDC, which emphasizes that 93.89% of counties in the US are experiencing substantial or high community transmission of COVID.
Queen's Funeral to observe the biggest security operation in the history of Britain; details inside
On the global footing WHO has confirmed that the COVID numbers are nearing record lows through chief Tedros Adhanom Ghebreyesus, however, he still made remarks and cautioned against complacency.
He went on to say that government must ensure vaccination and must keep a vigil on the new variant that might take over, which can pose a new threat to us in the fight against COVID.
The U.S. recently approved bivalent vaccines from Pfizer and Moderna, which target both the original strain of the coronavirus as well as the new BA.4 and BA.5 Omicron subvariants.
Implying how much essential it is for people to ensure safety against the prevalent virus. Biden's remark must be taken in the terms of magnitude that have significantly gone down but not as of it has completely vanished.
Put on the mask in medical-related areas where the chance of infection is high, and get your course of COVID vaccine complete to ensure an upper hand against the virus.