Published On
Big disclosure: Lawrence himself wrote threatening letter to Salman Khan
Arrested shooter Saurabh Mahakal claims that Goldy Brar handed over the threatening letter to Salim Khan.
Author :
Chanderveer Singh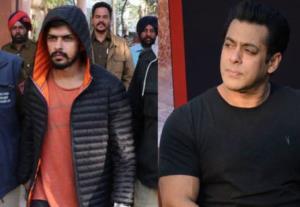 Mumbai Crime Branch has made revelations in the case of a threatening letter to Bollywood superstar Salman Khan. The Mumbai Crime Branch had interrogated Saurabh Mahakal, a close aide of Lawrence in Pune. During interrogation, he told that this letter to Salman Khan was sent from the gangster Lawrence's side. After the disclosure of the case, 6 teams of police have left for different parts of the country.
As per reports, three people from Jalore said that the jailed gangster Lawrence had written a threatening letter to Salman Khan and his father Salim Khan. Three people from Lawrence's gang had come from Jalore, Rajasthan, to hand this letter in Mumbai. After giving the letter, the trio also met the accused Saurabh Mahakal.
According to the police, Saurabh also told that the letter was delivered to Salim Khan through Goldy Brar. Mumbai Police further said that the crime branch has identified the people who sent the letters. Some clues related to him have also been found. The police have assured them that soon they will be caught.
Vikramjit Brar, a resident of Hanumangarh in Rajasthan, was close to Anandpal Singh, the notorious gangster of Rajasthan, but later after his encounter, he joined Lawrence's gang. Now he is close to Lawrence and does follow him thoroughly. More than two dozen cases are registered against Goldy Brar.
Reportedly, Bandra police asked Salman about gangsters Goldy Brar and Lawrence. To this, Salman said, 'I do not doubt anyone about the threatening letter. I have no enmity with anyone nowadays. I heard about Lawrence in 2018 because then he threatened me, but I don't know Goldy and Lawrence.'
Talking about the threat, he told the police- 'I haven't had a fight or an argument with anyone in the recent past. I didn't even get any threatening message or call. Not even me, my father got the letter. That too when he went out for a walk in the morning."
This whole matter came to the fore on Sunday morning when Salman's father Salim went out on the morning walk. After the walk, Salim Khan received an unknown letter, threatening to kill him and his son Salman. After that letter, Salim Khan contacted the police with the help of his security personnel and a case was registered in this regard at Bandra police station.
Recently Punjabi singer Sidhu Moosewala was shot dead, after which the name of gangster Lawrence Bishnoi, who was lodged in Tihar Jail, Delhi, again came into the news. Lawrence Bishnoi threatened to kill Salman Khan after the blackbuck case.
Salman is currently in Hyderabad. He has reached Hyderabad for the shooting of his upcoming film Kabhi Eid Kabhi Diwali. Here is his 25-day schedule. Bodyguard Shera and his team reached Hyderabad followed by Salman Khan.