Published On
'BJP is the party of illiterate & goons, patronize criminals': AAP's Raghav Chadha rakes up row
Breaking his silence on the attack on Arvind Kejriwal's residence, Raghav Chadha called the Bharatiya Janata Party (BJP) 'a party of illiterate and goons'
Author :
Malkit Singh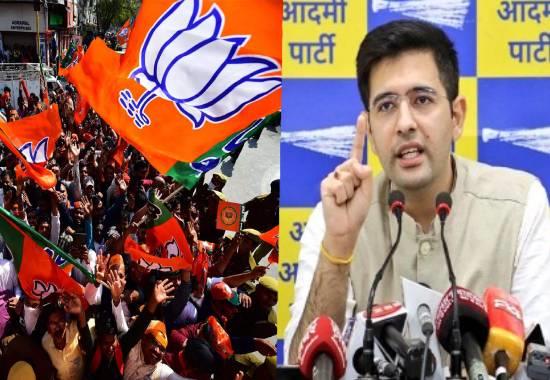 Aam Aadmi Party's
Rajya Sabha MP Raghav Chadha
has finally addressed the attack on Delhi CM Arvind Kejriwal's residence by a group of protestors over his remarks on The Kashmir Files. Breaking his silence on the attack on Arvind Kejriwal's residence, Raghav Chadha called the Bharatiya Janata Party (BJP) 'a party of illiterate and goons'. Delhi chief minister Arvind Kejriwal's house was 'attacked by a group of protestors. Security barriers and a CCTV camera at Kejriwal's residence were also vandalised over his 'insensitive' remark on the movie The Kashmir Files and the genocide of the Kashmiri Pandits.
In an interview for a YouTube channel, 'UNFILTERED by Samdish', AAP Rajya Sabha MP Raghav Chadha said, "BJP is a party of goons and illiterate. The party also patronise criminals. People attacked the residence of the Chief Minister of Delhi, pelted stones, vandalised security cameras, and lamps, and also painted the gates with spray. The Delhi Police did not even nab them. After pressure from the court, the Delhi Police nabbed them but freed them after 4 days. After being released from jail, they all went to the BJP headquarters. BJP State President held a press conference and then awarded them party membership. What does this mean and what does this show?"
Furthermore, Chadha stated that the AAP is acting like a pressure cooker and as a result, the Delhi Police is taking action against the criminals otherwise 'they will promote them'.
Arvind Kejriwal's remarks on The Kashmir Files and attack on his residence
For the unversed, Arvind Kejriwal during a speech in the Delhi assembly had accused BJP leaders of promoting The Kashmir Files. Taking a dig at the BJP, Kejriwal had asked the filmmakers to upload the movie on YouTube if they wanted it to be viewed for free.
"They (BJP) are demanding the movie be declared tax-free in Delhi. Upload it on YouTube, the movie will become free and everyone will be able to watch it. Some people are earning crores in the name of Kashmiri Pandits and you have been sticking posters of the film."
The remarks by Kejriwal was not welcomed as he was accused of 'mocking' the genocide of the Kashmiri Pandits by the BJP. Not only this, people on social media slammed the Delhi CM for his 'insensitive' comment on the genocide of the Kashmiri Hindus.