Published On
BJP reshuffles leadership in Punjab unit
New appointments bring a mix of experience and fresh faces Author :
Rakesh Behal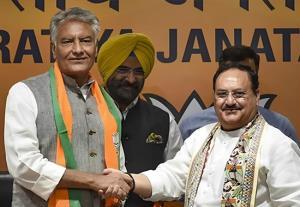 In a notable restructuring, the Bharatiya Janata Party (BJP) has introduced new office-bearers to its Punjab unit, marking a significant development in the state's political landscape. The move, which follows Sunil Jakhar's appointment as unit chief two months ago, aims to strike a balance between seasoned leaders and emerging talents.
BJP's Punjab Unit Appointments Bring Fresh Faces and Experience
In a strategic reshuffle of its Punjab unit, the Bharatiya Janata Party (BJP) has introduced a mix of both experienced leaders and emerging talents. Among the notable appointments, party leaders Subhash Sharma, Surjit Kumar Jayani, K D Bhandari, and Rajesh Bagha, along with former Congress leaders Arvind Khanna, Fatehjang Singh Bajwa, Balbir Singh Sidhu, and Gurpreet Singh Kangar, have taken up pivotal roles as the BJP's state vice presidents.
State General Secretaries and Emerging Leaders
Further enhancing the party's structure, the BJP has appointed Rakesh Rathore, Dayal Singh Sodhi, Anil Sareen, Jagmohan Singh Raju, and Parminder Singh Brar as state general secretaries. These individuals are expected to play a crucial role in shaping the party's agenda and strategies in Punjab.
New State Secretaries: Infusion of Fresh Perspectives
In a bid to infuse fresh perspectives and energy, the BJP has introduced 12 new state secretaries. Among these appointments, noteworthy names include former Congress MLA Harjot Kamal, Shivraj Chaudhary, Sanjeev Khanna, Daaman Thind Bajwa, Renu Kashyap, and Karanveer Singh Tohra. These appointments reflect the party's commitment to diversify and strengthen its leadership in Punjab.
Experienced Leaders Join Core Group
Former Chief Minister Capt Amarinder Singh, Union Minister Som Parkash, former MP Vijay Sampla, ex-Finance Minister Manpreet Singh Badal, and former Lok Sabha Deputy Speaker Charanjit Singh Atwal have been enlisted into the core group of the BJP in Punjab. This infusion of experience is expected to bring valuable insights and leadership to the party.
Influx of Former Congress Leaders
The BJP in Punjab has also embraced former Congress leaders Rana Gurmeet Singh Sodhi, Raj Kumar Verka, and Kewal Singh Dhillon, in a strategic move to diversify its leadership. This inclusion of leaders from rival parties underscores the party's commitment to broadening its appeal.
Strengthening Party Infrastructure
As part of the restructuring, several key roles have been assigned to bolster the party's presence in the state. State vice presidents, general secretaries, and secretaries have been appointed, bringing a blend of expertise and fresh perspectives to the forefront.
Focus on Women and Scheduled Castes
Jai Inder Kaur, daughter of Amarinder Singh, takes the helm of the Punjab BJP's Mahila Morcha (women's wing), while former IAS officer S R Ladhar leads the party's Scheduled Castes wing. These appointments reflect a commitment to inclusivity and diversity within the party's leadership.
OBC Morcha Gets a New Leader
Former Shiromani Akali Dal MLA Amarpal Singh, who joined the BJP earlier this year, has been entrusted with leading the state unit's OBC morcha, further broadening the party's reach among various communities.
Special Invitees to the Core Committee
The core committee of the BJP's Punjab unit will include special invitees such as BJP's national vice president Saudan Singh, national general secretary Tarun Chugh, parliamentary board member Iqbal Singh Lalpura, state in-charge Vijay Rupani, state co-in-charge Narinder Raina, and general secretary organisation Manthri Srinivasulu. Their presence underscores the national party's commitment to the state's political landscape.
A Strategic Move for Punjab BJP
These appointments, endorsed by BJP President J P Nadda, mark a strategic initiative to invigorate and diversify the leadership within the party's Punjab unit, positioning it for future challenges and opportunities.