Live Bombshell found near Punjab CM Bhagwant Mann's Helipad in Chandigarh; Probe launched
The local police and administration have taken the charge of the sight besides informing Army for further inquiry into the matter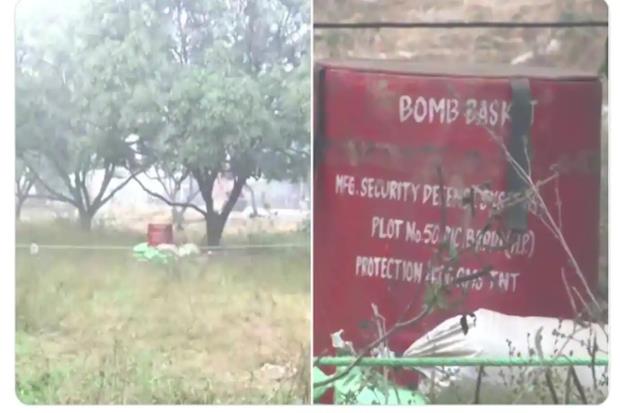 -

In a matter of shocking development, a bombshell has been discovered in Rajindra Park close to Punjab CM Bhagwant Mann's Sector 2 house's helipad in Chandigarh. The place where the bombshell has been discovered is very close to a high-security area.

The information about the incident has pushed the entire security team to the edge swinging into action in a matter of grave concern. The spot where the shell was found is hardly two-kilometer from Punjab Chief Minister Bhagwant Mann's official residence.

Teams of Chandigarh Police, Bomb Squad, and Dog Squad were called to the spot. The bomb has been covered from all sides. At the same time, the army unit based in Chandimandir has been informed about the incident who are also reaching the spot.

According to the information, this bombshell was lying in the mango orchard in Rajindra Park. This area comes under the jurisdiction of UT. Some passers-by went here in the afternoon, he saw something like a bomb, whose information he immediately gave to the police on the 100 number.

The police team reached the spot and the area DSP also reached the spot. At the same time, the Disaster Management Team of Chandigarh administration also reached here. Apprising the media on the matter Sanjeev Kohli, Nodal officer, Diasater Management, Chandigarh said, "A live bombshell has been found here. It has been secured with help of the Police and the Bomb Disposal Squad. An Army team has been called in. The area is being cordoned off. Further investigation is underway."

While Station Incharge Amarjit Singh also reached from the Sector 11 Fire Station to deal with the situation. According to the information, the bombshell was active.

Taking the shell under custody the team has placed it under a fiber drum while surrounding it with sandbags to ensure additional security alongside the deployment of security personnel for the surveillance. The area is currently sealed, while the team waits for Army personnel to reach and inquire further into the matter.

Note: - This matter is developing any further information will be duly reported.