Published On
#BoycottFukrey3 trends on Twitter after Richa Chadha's controversial "Galwan" tweet sparks national row
Richa Chadha apparently mocked the Indian Army after responding through the statement of a top Army commander over the Army's commitment to taking PoK back Author :
Tushar Singh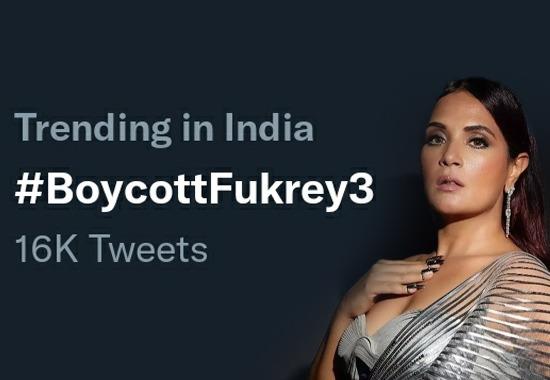 Fukrey star actor Richa Chadha has landed amidst a massive backlash after mocking the Indian Army through her "Galwan says Hi" tweet made against Northern Army Command's chief Lt. General Upendra Dwivedi.
The tweet, however, has been deleted from the actor but has left behind a spark of controversy against the actress receiving comments from several renowned celebrities. Akshay Kumar, filmmaker Vivek Agnihotri, and BJP leader Paresh Rawal condemned the actress' response to remarks from a top Army Commander.
The fans have also taken to Twitter to tender their protest against the actress's comment by resorting to boycotting the upcoming sequel of the actress' hit franchise of Fukrey which also stars her husband Ali Fazal.
Richa Chadha has remained in controversies earlier as well after she revolted against the move of banning Pakistani actors over the state-sponsored terror attacks in India, besides mocking Wagha Border to be the "greatest circus in India."
The fans have been fuming against the actress' statement and schooled the actress' through shades of responses over her derogatory remarks.
Watch Some of the tweets here:
Hello #RichaChadha .. becoming an idol for fans that's sweets but !nsulting our BraveHeart #IndianArmy who sacrifices in Galwan for You And I that a shame of you.. You shud learn ur lesson now lets #BoycottFukrey #Bollywood #BoycottBollywood pic.twitter.com/fNeDNCVWFC

— lydiaapynz (@ludiaapynz) November 24, 2022
Liquor policy case: Delhi L-G, Chief Secy should be sacked, says Sisodia
@RichaChadha Acting says hi

Good for nothing bad for everything.Remember the name @RichaChadha .#boycottfukrey

— Prince patel (@Princep40916525) November 25, 2022
Less interested to see such actors movie who directly or indirectly insults Indian Army. @RichaChadha #BoycottRichaChadha #BoycottFukrey3 #boycottfukrey

— CHIRAG JAIN (@chirag7rj) November 24, 2022
#BoycottbollywoodForever #boycottfukrey #BoycottBollywood https://t.co/lN6BfTINll

— Tarun Anand (@itsTarunAnand) November 24, 2022
@RichaChadha it's a shame that you continue to live a luxurious life with our money, on our land, and yet you mock the protectors of this land. You have hurt Indians and we wont hesitate in reciprocating your hatred #boycottfukrey

— Divya Shukla (@divya_2377) November 24, 2022
#boycottfukrey#BoycottMamaEarth for having #RichaChadha as a brand ambassador. She always show her Pakistan love and hate for Indian army. Need strong boycott.

— Sarang Mahajan (@SarangMahajan01) November 25, 2022
For those, who don't know the standoff between India and China, close to the Line of Actual Control which lasted for months saw a deadly scuffle between the militaries of the two nations in which 20 of our brave soldiers were martyred.