Published On
Canada: 5 Punjab-based people killed in just 20 days, parents reluctant to send their children abroad
The Central government in India has announced that there has been a sharp rise in the violence against Indians in Canada Author :
Guneet kaur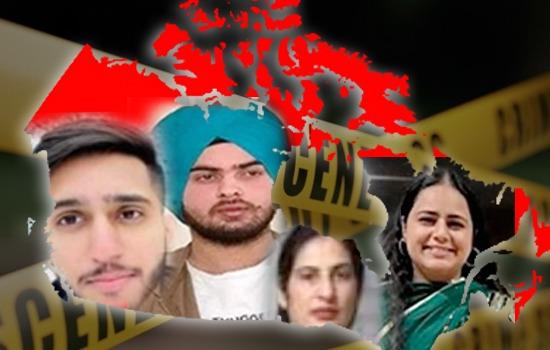 According to the latest data Canada has witnessed the brutal killings of 5 Indians in the last 20 days. Canada is a country where huge number of Indians are settled. Almost every other youth or family wishes to get settled in Canada for a better living. The cases of Indian killing that were reported in last 20 days have created a state of fear among Indian parents. Now, the parents are either not willing to send their kids abroad or whose children are already settled there have a great amount of fear in their minds regarding their safety.
Talking about the killings that took place, first incident reported was from Surrey where an 18-year-old student was stabbed to death by a 17-year-old. As per information deceased was identified as Mehakpreet Sethi who was a resident of Punjab, India. He died after being attacked by miscreants in parking area of Tamanawis Secondary School. The deceased went to pick his younger brother from school when he got into an argument with someone known who then in anger stabbed him to death. Mehakpreet's dad while talking about his death said that he regrets his decision of coming to Canada and getting settled as that decision took his son's life.
Soon after this, another incident reported was reported from Brampton where a 21-year-old Punjabi woman was shot at a gas-station. Peel regional police while giving information about the case stated that the incident occurred at a gas filling station on Credit view Road and Britannia Road West around 10.40 pm. The deceased, Pawanpreet Kaur who was an employee at the station was gunned down and then shot multiple times. She dies on the spot despite the medical assistance available at the station.
Post this, a 24-year-old Sikh man was shot dead in Edmonton city. The victim, identified as Sanraj Singh, and when police reached the spot he was found critically injured inside the car. The police gave CPR but the Emergency Medical Services arrived and declared him dead.
Reportedly, Surrey Royal Canadian Mounted Police found the body of a young woman in West Vancouver. The deceased was identified as Jasveer Parmar who contacted her family last on 22nd November 2022 and was later found dead under suspicious circumstances. 40-year-old Harpreet Kaur was found stabbed to death several times at her home in Surrey, British Columbia, Canada.
The Central government in India has announced that there has been a sharp rise in the violence against Indians in Canada and certain steps are being taken to solve this issue.