Published On
Canada Stabbings: Saskatchewan residents narrate horrors of killing spree as hunt for the dreaded duo underway
As the incident surfaced the police are on the operation to nab Damien Sanderson, 31, and Myles Sanderson, 30, authorities said they believed the men were likely in Regina
Author :
Tushar Singh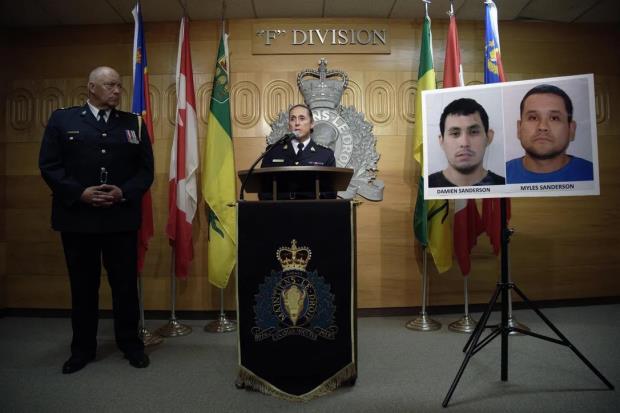 The hunt for two dreaded suspects was on for the entire night yesterday after the two were on the run in the stabbing rampage that left 10 dead and 15 others injured.
As the incident surfaced the police are on the operation to nab Damien Sanderson, 31, and Myles Sanderson, 30. Authorities said they believed the men were likely in Regina.
The RCMP Assistant Commissioner Rhonda Blackmore said the dead and injured were found in 13 locations on the James Smith Cree Nation and in the village of Weldon, a community of about 200 people northeast of Saskatoon. The official stated that some people had been targeted while others were attacked randomly.
Details around the violent incident were scarce Sunday night. Police went on to brief the media saying that they received multiple calls around 5.40 AM about the stabbings from multiple locations.
Shortly after 7 a.m., Saskatchewan RCMP issued a 'dangerous person alert', saying they were trying to locate the two suspects. The alert was extended hours later to cover Manitoba and Alberta.
As per the Canadian media reported one June Carrier, 77, who lives in Weldon, said two of her friends — one who lived in town and one from the First Nation — were among the victims.
She said she didn't want to name them publicly, but spoke about both, as well as what she believes was her own near encounter with one of the assailants. Carrier, meanwhile, said she believes one of the attackers came to her door Sunday morning.
Canada breaking : 10 dead, 15 injured in stabbings in Canada: Police
She went on to explain that, through a part of the door she could see the arm of a sweatshirt go by. She went to her bathroom window and saw a man getting into a vehicle.
Another Weldon resident, Robert Rush, whose horrors about the incident description as reported in the media read the detailing about the victim from the town as a gentle, widowed man in his 70s.
The Regina Police Service, in a news release, said that with the help of Mounties, it was investigating on several fronts to locate and arrest the suspects and had "deployed additional resources for public safety throughout the city, including the football game at Mosaic Stadium."
Canadian Prime Minister shared his thoughts on the terrifying incident leveling it as "horrific and heartbreaking." He further added, "I'm thinking of those who have lost a loved one and of those who were injured."
While Saskatchewan Premier Scott Moe in a tweet went on to pay his condolences tweet saying, "I want to offer my deepest condolences on behalf of the government and people of Saskatchewan to all of the family and friends of the victims of today's horrific attacks."