Published On
'Captured' Russian soldier's confession during interrogation stuns Ukrainian army; Video Viral
In the video shared, the Ukranian Army can be seen asking multiple questions to Russian Soldier who was reportedly captured in Kharkiv
Author :
Malkit Singh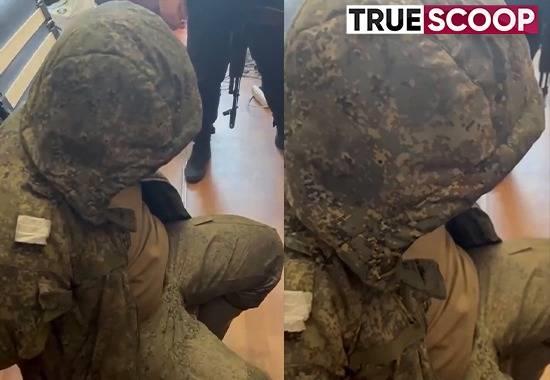 As the war between
Russia and Ukraine
intensifies, a video of a captured Russian soldier is doing rounds on social media. European Union Media Nexta TV shared the video of an interrogation of a captured Russian soldier on its Twitter handle. The Russian soldier was reportedly captured by the Ukranian army in Kharkiv region. In the video shared, the Ukranian Army can be seen asking multiple questions to Russian Soldier. Notably, the Ukranian Army has covered the face of the Russian soldier so that his identity does not get burn around the world.
The interrogation occurs in their regional language, however various social media users have shared the transcripts of the 'captured' Russian soldier interrogation viral video. As per them, the Ukranian army ask the Russian soldier to gives his full introduction including his date of birth. Notably, the captured Russian soldier can be seen sitting blind-folded and co-operating in the interrogation.
As per report, the Ukranian army ask, 'which country are you from?' The Russian solder reples, 'Russia'.
ukr: when you came to ukraine?

rus: 24th of february.
ukr: for what purpose?
rus: seizure of territory.
ukr: okay, seizure of territory. where do you actually live? [asking about his address]
Watch 'captured' Russian soldier's interrogation and read full transcripts:
Ukraine seeks ban on OTT and social media platforms in Russia
kraine's Digital Transformation Minister Mykhailo Fedorov wrote letters to owners of various social media and OTT media platforms seeking a ban of their services in Moscow. As per a letter shared by Ukraine World, Mykhailo Fedorov wrote letter to OTT platforms and social media including Netflix, Facebook, Instagram to ban their services in Russia for their 'deceptive and outrageous military attack' on Ukraine.

Russia-Ukraine War
Coming to the Russia-Ukraine conflict, Moscow amassed over 150,000 troops on Ukraine's borders in a bid to pressurise Western nations to not allow Kyiv to join NATO, threatening an invasion. On Thursday, Putin ordered a special military operation in Ukraine's Donbas region, which quickly turned into precision airstrikes on Kyiv, Kharkiv, Ivano-Frankivsk, deployed tanks towards Lviv from the Belarus-Ukraine border. Ukrainian President Volodymyr Zelenskyy 137 died after first day of fighting. Till now the official death toll has raised to 198 which includes Ukranian civilians and army personnel.