Carry on Jatta 3: Gippy Grewal's blockbuster movie streaming on 'first-ever Punjabi OTT' CHAUPAL
CHAUPAL, the first-ever ultimate Punjabi OTT app and multiregional brings you a diverse array of movies, web series, and short films in Punjabi, Bhojpuri, etc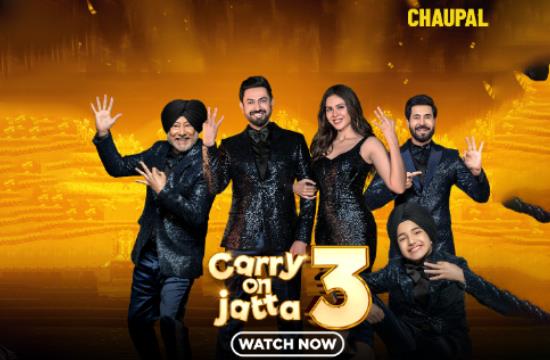 -

Are you ready to embark on the latest sensation in the Punjabi entertainment industry? Then get ready for the streaming of the Punjabi blockbuster movie Carry on Jatta 3. Starring Gippy Grewal, Sonam Bajwa, Binnu Dhillon, Kavita Kaushik, Jaswinder Bhalla and more in the lead roles, Carry on Jatta is all set to be streaming on CHAUPAL.

CHAUPAL, the first-ever ultimate Punjabi OTT app and multiregional brings you a diverse array of movies, web series, and short films in Punjabi, Bhojpuri, and Haryanvi languages available in 100+ countries.

Punjabi cinema, known for its humour and beloved characters, finds its pinnacle in the Carry on Jatta series. Carry on Jatta 3 not only continues the legacy of humour and timing but also elevates the Punjabi film industry to new heights.

Meanwhile, Gippy Grewal, a master of artistry and marketing, has transformed Carry on Jatta 3 into a cinematic gem, grossing an estimated 100 crores and rewriting Punjabi cinema history. The success is credited to its stellar cast, including Gippy Grewal and Sonam Bajwa, who breathe life into quirky characters, adding charm and laughter. His versatile talents, from production to promotion, have earned him immense respect in the Punjabi film industry.

Carry On Jatta 3 stands as proof of his ability to connect with the audience and create memorable entertainment.

Carry On Jatta 3 in the Bollywood Spotlight

The Carry on Jatta franchise's immense popularity drew Bollywood superstar Aamir Khan to the trailer launch of Carry on Jatta 3 in Mumbai, alongside the star-studded cast. They also graced The Kapil Sharma Show, sharing intriguing stories about the movie. Additionally, their visit to the Bigg Boss house saw Salman Khan congratulating Gippy Grewal and Sonam Bajwa for their outstanding films.

Anticipation among Audiences for Sequels

Like the excitement for major Bollywood sequels, the Punjabi audience has eagerly awaited each Carry on Jatta installment. Today is a significant day in Indian cinema, with Carry on Jatta 3 on Chaupal and Shah Rukh Khan's Jawan in theatres.

Remarks from Chaupal's Chief Content Officer, Nitin Gupta:

Nitin Gupta, Chief Content Officer at Chaupal, shares his excitement: "We're thrilled to bring the biggest Punjabi family movie to our platform. For those who've seen it in theatres, enjoy it again on Chaupal with loved ones. We're dedicated to delivering diverse content across genres."

Since the past 2 years, Chaupal has been your go-to hub for the 350+ latest Punjabi, Haryanvi, and Bhojpuri web series and films. With CHAUPAL, the world of entertainment is at your fingertips. Explore a vast selection of films spanning genres such as drama, action, comedy, thrillers, and romance. Here are some top picks from our extensive library:

• Aja Mexico Chaleya

• Shikari

• Kalli Jotta

• Carry on Jatta 3

Also Read: Who is Daniel Khalife & how did he escape from Wandsworth Prison?

• Outlaw, the first-ever web series of Rock star, Gippy Grewal

• Panchhi, and more.

Don't miss out on this extraordinary entertainment experience. Download the CHAUPAL app today and subscribe to unlock a world of cinematic wonders.

Select your preferred subscription plan below and join us on Chaupal, where entertainment knows no bounds.

Basic:

Watch add-free on Mobile

Rs. 140/ month

Standard:

Watch add- free on TV and Mobile

Multiscreen

Rs. 799/yearly

Premium:

Watch Add-free on TV and Mobile

Multiscreen+Login on 4 devices

Rs. 999/yearly

Enjoy an ad-free experience, offline viewing, multiple profiles, seamless streaming, global access, and endless entertainment, all year round.