Published On
Celebs, relatives show support to Justin Bieber as singer diagnosed with Ramsay Hunt Syndrome, 'We Love You'
Justin Bieber has suffered with a disease named Ramsay Hunt syndrome. He himself has given information about this by sharing a video on Instagram.
Author :
Rohit Gupta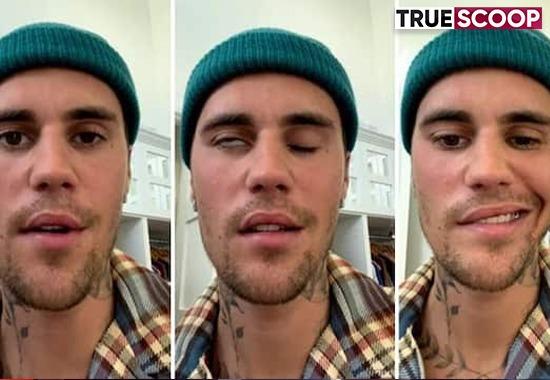 Justin Bieber Ramsay Hunt syndrome: Hollywood's famous singer Justin Bieber has been suffering from a serious illness. Due to illness, Justin Bieber has cancelled all his concerts and has gone on a vacation. According to the information received, Justin Bieber is suffering from a disease named Ramsay Hunt syndrome.
Justin Bieber himself has given information about this by sharing a video on Instagram. Due to this disease, the effect of paralysis is visible on half of Justin Bieber's face.

By sharing a video of himself on Instagram, Justin Bieber has informed the fans why they are cancelling all their concerts. Justin said that he got this syndrome due to some virus, and the nerves in his face are getting affected due to the virus. It can be seen in the video that Justin Bieber does not blink an eye. Also, Justin Bieber is not able to smile well and the movement of his nose has also been affected.






Justin Bieber fans were upset over the show's cancellation
Some fans of Justin Bieber were angry due to the cancellation of his show, in such a situation, Justin Bieber released a video message informing his fans about his illness. Justin Bieber said due to this disease, he has been having trouble performing physically on stage for some time and the doctor has asked him to take some rest.
Justin Bieber told that this is a very serious disease and his body needs some time to rest. He said that he will come back after recovering 100 per cent and again he will work for the work he was born for. In the video, Justin Bieber thanked his fans for their support. Justin said that he is currently doing facial exercises after the advice of the doctor so that his face can be normal once again.




Know what is Ramsay Hunt syndrome
Ramsay Hunt syndrome is a rare neurological disorder in which painful rashes develop around the ears, on the face or in the mouth, and the patient experiences paralysis attacks on the face. In some patients, there may also be a serious problem of deafness in the ear. This is a very rare disease, in which the varicella-zoster virus infects the nerves of the head. In some children, this virus also causes Chickenpox in children and shingles in adults.
On social media, people from all over the world are showering their love and blessings on the Canadian pop star and wishing him a super speedy recovery.