Published On
Congress mayor & councillors protested against commissioner corporation
Anupam maker realised her mistake by saying it communication gap Author :
Rakesh Behal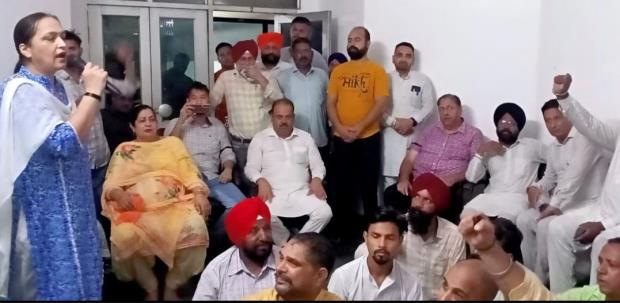 ASHISHPURI
17 September, Kapurthala
Congress party mayor and councilors of the Kapurthala Municipal Corporation today protested against Commissioner in anger over ignoring them in a car rally to be organised morning during the Swachh Bharat campaign. They all started protesting sitting outside the commissioner's office for about two and a half hours. After this commissioner Anupam Kaler came out of her office and realized her mistake to which the protest stopped by congressman's.
Here it is mentioned that during the Swachh Bharat campaign, a car rally was to be organized today at 9 am by Kapurthala Municipal Corporation from Shalamar Bagh to DC Chowk. But the mayor of the corporation, Congress councilors and leaders, started protesting against not inviting the house in their event . In the protest councillors also raised the slogans against the administration and government.
Congress urban chief Deepak Salwan, who was presiding over the protest, said that the mayor and house councilors are being ignored by the corporation administration. At the same time, water pumps installed during the tenure of Congress government were not started and many other development works were ignored. Due to which the people of the city are not getting proper facility of even drinking water. Congress leaders also alleged that no invitation was given to the mayor and councilors regarding the car rally to be taken out during the Swachh Bharat campaign.
On the other hand, after the protest that lasted for about two and a half hours outside the Corporation Commissioner's office, Corporation Commissioner Anupam Kaler realized her mistake and cited communication gap as the reason for not receiving the invitation. The Corporation Commissioner also assured that the city's water pumps would be operated smoothly within a month . After which the protest was ended.