Published On
Watch: Congress' Srinivas BV runs away from cop in fear of detention standing in support of Rahul Gandhi
Congress Youth President Srinivas BV was seen running away from a Delhi police officer who was trying to stop him
Author :
Malkit Singh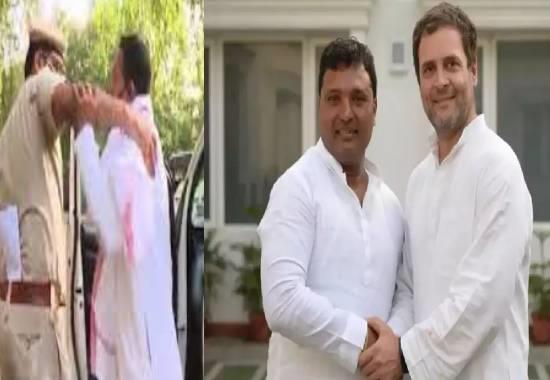 Congress party former President Rahul Gandhi
on Monday appeared before the Enforcement Directorate (ED) in the case pertaining to the National Herald scam. As a result, Congress party workers and leaders came out to protest against the Centre and ED in the national capital. As Rahul Gandhi was being grilled by the ED, Congress workers' protest were increasing rapidly. However, what has caught everyone's eyes is when its Congress leader ran from the spot when the Delhi Police approached to detain him.
Congress Youth President Srinivas BV was seen running away from a Delhi police officer who was trying to stop him. The video of the Congress leader running from Delhi Police is doing rounds on social media and has made almost everyone laugh. In the viral video, Congress Youth President Srinivas BV can be seen running 'like lightning thunder' when a Delhi Police tried to approach him. Like the way of his running, it can said that the Congress leader ran away from the protest site in fear of his detention over the 'ungranted protest'.
Watch Congress' Srinivas BV running from Delhi Police viral video
In a bid to show political strength, several Congress MPs, working committee members, and prominent party leaders accompanied Rahul Gandhi as he appeared before the ED in Delhi on Monday, June 13.
It is pertinent to mention here that ahead of Congress's planned stir, prohibitory orders were imposed in parts of central Delhi that were heavily barricaded. As the Congress leaders protested in Delhi, police detained a number of top party leaders, including Chhattisgarh Chief Minister Bhupesh Baghel as well as Randeep Surjewala, K C Venugopal and Adhir Ranjan Chowdhury, for violating the orders.