Published On
Controversy over Ayushman Scheme: Health Minister claims funds have been provided, but PGI denies
PGI has stopped treatment due to outstanding dues of Rs 16 crore
Author :
Samriti Bharadwaj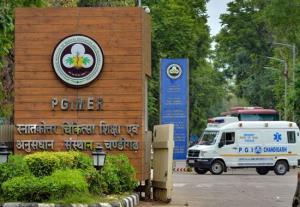 There is a ruckus at the PGI in Chandigarh regarding the free medical care provided to the patients hailing from Punjab under the Ayushman scheme.
PGI has stopped treatment due to outstanding dues of Rs 16 crore. After this, Punjab Finance Minister Harpal Cheema said that the fund has been released.
The free medical care will resume from Thursday.
At the same time, the PGI management says that like other patients, patients of Punjab will also be treated in the same routine. The outstanding money from the Ayushman scheme has not yet reached PGI.
Patients can receive cashless treatment for up to 5 lakhs under the Ayushman scheme by showing the card.
According to Finance Minister Harpal Cheema, the Congress government terminated the contract with the insurance company on December 29, 2021. The AAP government is providing funding wherever it is required. He said that the dues of all government hospitals have been released under the Ayushman scheme.
Many complaints had come from many places in private hospitals, and they are being investigated.

CM Bhagwant Mann is a target of his opponents. The opposition has targeted CM Bhagwant Mann as a result of the PGI ending its free treatment program.
Where should the poor man go, asked Akali Dal leader Parambans Romana after CM Mann traveled to Delhi for medical attention. On the pretext of Delhi, the BJP and Congress have also mocked the AAP administration at the same time.