Published On
Corporation driver dies in Chandigarh: Trolley fell on neck; reached Sector-23 to collect garbage
After getting information about this, Sector 17 police station reached the spot and lifted the trolley and took Navjot out
Author :
Samriti Bharadwaj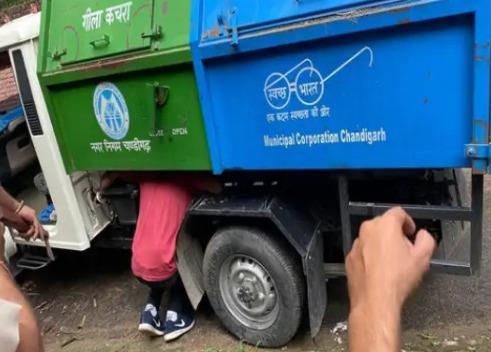 On Friday, the operator of a Chandigarh garbage truck died suddenly. The deceased has been identified as Navjot Singh (27), a resident of Mohali. On Friday, the accident happened at about 2:00 p.m.
Along with other coworkers, Navjot arrived to collect garbage from Sector-23 houses. He then stepped out of the driver's seat and began working on the trolley at the back of the vehicle. At the same time, the trolley rising fell on him and Navjot's neck got stuck in the middle. Due to which he died. Coworkers attempted to help Navjot but were unsuccessful due to the weight of the cart.
After getting information about this, Sector 17 police station reached the spot and lifted the trolley and took Navjot out, and took him to Sector-16 GMSH Hospital. Here the doctors declared him brought dead.
The accident's cause is being investigated by the police. It is believed that Navjot pressed the vehicle's lever with his hand while working on the vehicle's backside, causing a hefty trolley to fall on him. The cops are still working on the investigation.
Sudesh Kumar, the corporation's vehicle's driver, passed away earlier on May 27. Then, on May 29, another incident come to light.