Published On
Dahaad True Story: Who is the real 'serial killer' Anand Swarnakar aka Cyanide Mohan?
Dahaad is loosely based on real-life serial killer Mohan Kumar, also known as Cyanide Mohan which is played by actor Vijay Varma as Anand Swarnakar Author :
Malkit Singh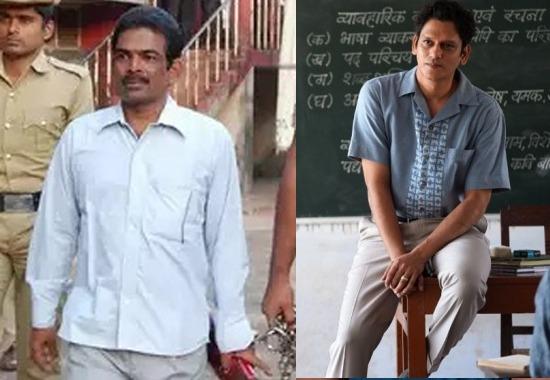 Crime-thriller series Dahaad was released on Amazon Prime Video on May 12, 2023, and slowly & steadily it is becoming the talk of the town for its impeccable storyline and brilliant performance by actors such as Sonakshi Sinha, Vijay Varma, Gulshan Devaiah, and Sohum Shah. Vijay Varma is getting a lot of praise for portraying a negative character that is loosely based on a real-life serial killer infamously known as Cyanide Mohan. Created and Directed by Reema Kagti and Zoya Akhtar, Dahaad is a crime thriller that shows Sonakshi Sinha in pursuit to solve a case of women's deaths that have been discovered in unlocked public restrooms. It is stated that Dahaad is loosely based on real-life serial killer Mohan Kumar, also known as Cyanide Mohan. Bollywood actress Sonakshi Sinha plays the character of sub-inspector Anjali Bhaati, while Vijay Verma plays the character of Anand Swarnakar which has been inspired by Cyanide Mohan. Since you have landed on this page, True Scoop News assumes that you have already binge-watched Dahaad on Amazon Prime Video and have multiple questions, especially regarding Dahaad True Story or about 'real life' Anand Swarnakar or simply who is Cyanide Mohan. To know the answer continue reading-
Dahaad Storyline
Dahaad is 8-episode web series that revolves around sub-inspector Anjali Bhaati (Sonakshi Sinha) and her fellow officers at the local police station. They deal with brutal criminal activity throughout eight episodes. The story starts with Anjali Bhaati being called in to investigate a string of women's deaths that have been discovered in unlocked public restrooms. At first glance, the murders appear to be suicides, but as more information becomes available, Bhaati begins to fear a serial killer is at large. The 8-episodes series, keeps the audience in suspense and there are plots that cannot be disclosed here. However, your questions are answered below-
Who is the real Anand Swarnakar?
Vijay Varma's character name in Dahaad is Anand Swarnakar who is a Hindi professor at a women's college. As mentioned above already Anand Swarnakar's character is is loosely inspired by a real-life serial killer Mohan Kumar, also known as Cyanide Mohan. For the unversed, Mohan Kumar AKA Cyanide Mohan is accused of murdering 20 women in Karnataka from 2003 to 2009. Notably, Dahaad's storyline is based in Rajasthan, however, Cynide Mohan committed murders in Karnataka. It is pertinent to mention here that due to the resemblance of the killings by both Mohan in real life and Anand Swarnakar in Dahaad, they have been compared to each other.
What Cyanide Mohan did?
Reality True Story: All about real whistleblower 'Reality Winner' who leaked 2016 secret US documents
As per reports, Mohan Kumar Vivekanand aka Cyanide Mohanm targeted or rather say hunted young unmarried women around the age of 20. Mohan used to approach unmarried women, befriend them, and gett into physical relations with them on pretext of marriage without a dowry. After the women became pregnant, Mohan used to ask them to take contraceptive pills and then he secretly lace the pills with poison potassium cyanide. Kumar used to convince the victims to consume pills inside the public toilet so that cops do to reach him or develop any suspicion on him. After the death of the victims, Mohan used to rob their jewellery and flee from the spot.
How Cyanide Mohan was caught?
As per reports, the Police was investigating the chase of a missing girl named Anitha who was 22-years-old when Mohan's name popped up. While investigating phone records of Anitha, the Police came to know that she was in touch with another missing girl and this ultimately led the cops to the door-steps of Mohan Kumar in a village near Mangaluru in Karnataka. When the Police raided Mohan's house, they found 8 cyanide tablets, four mobile phones and jewellery belonging to Anitha. Following that Mohan was arrested that the Police then re-opened the case of 17 missing girls. Following his arrest in 2009, Mohan was sentenced to death, however, Karnataka High Court reduced his sentence to life improsonment.