Dance Party in Kartarpur Sahib Pakistan sparks row, non-veg & alcohol served; Video Viral
BJP leader Manjinder Singh Sirsa shared a Kartarpur Sahib video showcasing people dancing and having a party at the holy place.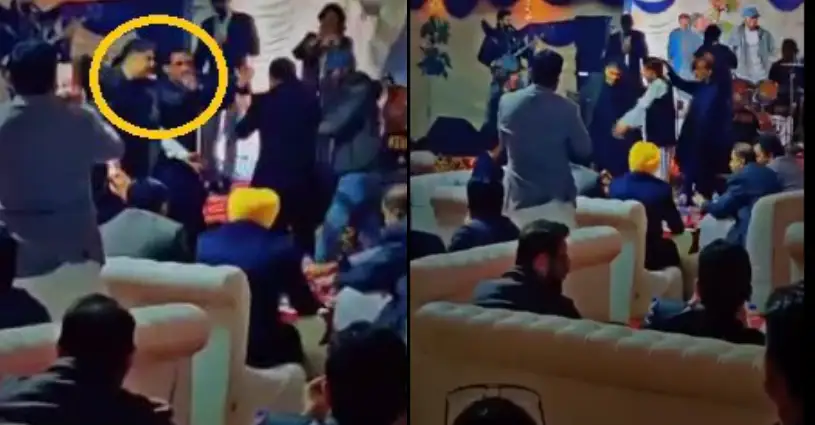 -

In a grave violation of 'Maryada', the Kartarpur Gurdwara administration of Pakistan was accused of hosting a party inside the corridor where alcohol & meat were served among the people. Gurdwara Darbar Sahib Kartarpur, also called Kartarpur Sahib, is located in Shakargarh, Narowal District of Punjab, Pakistan. BJP leader Manjinder Singh Sirsa on Sunday took to his official X handle and shared a Kartarpur Sahib video showcasing people dancing and having a party at the holy place.

Lashing out at the administration, Sirsa wrote, "Profound dismay as Sayed Abu Bakar Qureshi, CEO PMU Kartarpur Corridor, organizes a non-vegetarian party in Gurdwara Shri Darbar Sahib complex which was attended by 80 people including Mohammad Sharukh, Deputy Commissioner Narowal, District Police Officer Narowal also.

Sikh community worldwide feels betrayed by this disrespect to the sacred site where Guru Nanak Dev ji took his last breath. I demand swift accountability and action from @GovtofPakistan in this regard."

Furthermore, Sirsa shared his video in which he condemned the sacrilege incidents and meat consumption inside the holy Kartapur Sahib. "I strongly condemn the sacrilegious incident involving alcohol and meat consumption within the sacred premises of Gurudwara Sri Kartarpur Sahib. It's particularly disheartening that the Kartarpur Gurdwara committee administration was involved in this.

Urgently calling @GovtofPakistan for thorough & swift action against all responsible people. The faith of minorities should not be continually undermined by the government of Pakistan."

After Manjinder Sirsa flagged Kartarpur Sahib party row, SGPC spokesperson Gurcharan Singh Grewal also missed a statement saying, "The entire Sikh community condemns this shameful incident. Pakistan government should take action in this matter. I request the Jathedar of Akal Takht Kartarpur Sahib to clear their stand on this."
Kartarpur Sahib Dance Party
As per reports, a Pakistani government agency responsible for managing the Kartarpur Corridor hosted an official dinner on Saturday with live music and dance allegedly close to the Darshani Deori (main entrance) of the Gurdwara Darbar Sahib Kartarpur.
During the party, non-vegetarian foods were served barely 20 feet away from the shrine's entrance while chief executive officer Syed Abu Bakar Qureshi of the Project Management Unit (PMU) and several others danced to music by hired performers in the presence of Giani Gobind Singh, granthi of Gurdwara Darbar Sahib.
For those who are unaware, Kartarpur Sahib Gurdwara is among the holiest Sikh places of worship as Guru Nanak Dev Ji spent his last 18 years there.
Watch Video