Published On
Danish-American Punjabi Singer, Anita Lerche releases Sikh hymn on International Women's Day; watch
The recording and music video was created during the Pandemic together with her team from Punjab and the US. Author :
Guneet kaur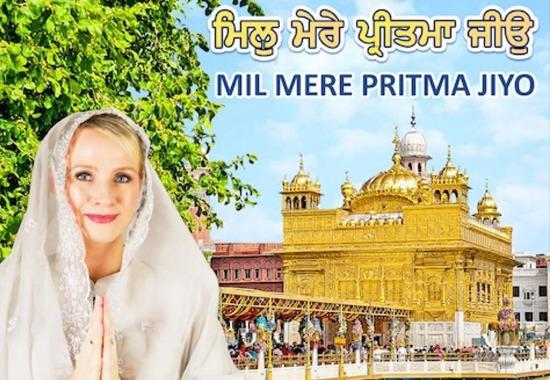 Danish-American Punjabi Singer, Anita Lerche, releases her favorite Sikh Sacred Hymn on Hola Mohalla & International Women's Day, March 8th, 2023.
MIL MERE PRITMA JIYO is a musical offering and tribute to the global Sikh community from the Internationally renowned Danish-American Punjabi Singer Anita Lerche. The recording and music video was created during the Pandemic together with her team from Punjab and the US.
Anita Lerche says: "Ever since I visited Punjab first time nearly two decades back, I have been inspired by the philosophy of Shri Guru Nanak Dev Ji, the 1st Guru of the Sikhs, who believed in Oneness of Humanity, Love, and Equality. Whenever I visit the Golden Temple in Amritsar, Punjab, I experience a divine sense of peace inside my heart, even amidst thousands of Devotees. Singing or listening to Kirtan can help us connect with our hearts, where we can experience divine guidance and feel at peace. I recited MIL MERE PRITMA JIYO for the first time in Denmark more than 10 years back, and it has become my favorite Shabad (Sacred Hymn). The lyrics describe that special longing to be united with the Divine, and I hope my recording and video will touch many hearts. Ultimately, I aim to create more awareness about the Sikh sacred music and Sikhism, while spreading more love and unity across borders, cultures, and religions."
Filmmaker Dr. Harjit Singh captured the mesmerizing visuals of various Gurdwaras and the River Beas in Punjab, and Emmy-winning videographer Nate Heck filmed Lerche's visuals. The soothing music, a blend of traditional Indian and contemporary sounds, was created by the talented Music Producer Mohit Kashyap and Satwinder Pal Singh on Sarangi. The whole project came to fruition with the support of Executive Producer Agiapal Singh Randhawa (L'aurel Media), G.S. Gill, and Anita's Punjabi language teacher Anurag Sood. We want to extend deep gratitude to the Sikh Sangat of Indianapolis, Dr. Parambir Gill Randhawa, Bhagwinder Kaur and KP Singh for their love and support during the recording process, and to Sh. Vijay Kumar Chopra ji, Chief Editor of Punjab Kesari.
Lerche is most celebrated for her award-winning work in Punjabi and is also a Billboard top-5 charting Artist. She was the first non-Asian woman from the West to release an album in Punjabi. Recently Lerche became a Global Music Awards Winner for Outstanding Achievement as Female Vocalist for her "Simran" release. With her albums "Heer from Denmark" and "Sadke Punjab Ton" and collaborations like "Aao Ji" and "Maahiya", Lerche's career as an international singer who travels the world entertaining huge crowds with her unique and electrifying performances, has truly made her an Ambassador for Punjabi Music, Language, and Culture. Lerche was honored to receive the 'Special Contribution Award' at the UK Bhangra Awards, 2019. Vocally trained at Mountview Academy of Theatre Arts in London, she has sung in a total of sixteen different languages. Lerche first visited India in 2005 and considers Punjab her second home. By virtue of being a unique and versatile artist who sings Punjabi culturally-inspired music, Lerche is now settled in Indiana as an American citizen.
See the MIL MERE PRITMA JIYO Music Video here: https://youtu.be/g9F-jmwzABs
goes live March 8th, 12am (EST) 10:30am (IST)
Listen to the MIL MERE PRITMA JIYO Single on all streaming and download platforms worldwide.
Visit Anita Lerche online at:
www.AnitaLerche.com
www.facebook.com/AnitaLercheMusic
www.instagram.com/AnitaLercheMusic
www.twitter.com/AnitaLerche
www.youtube.com/AnitaLercheMusic
https://en.wikipedia.org/wiki/Anita_Lerche