Published On
Deadly gang war erupts in Mexico's baja California: 11 Car racers killed in violent ambush
11 car racers killed in Mexico's Baja California gang war, believed to be a result of drug cartel rivalry. Author :
Malkit Singh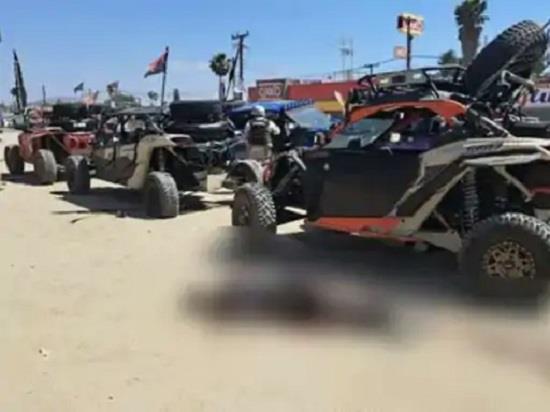 In a harrowing display of violence, a gang war between rival drug mafias unfolded in the picturesque region of Baja California, leaving 11 people dead and seven others injured. The deadly incident occurred during an all-terrain car racing event on Saturday, transforming what was meant to be a thrilling sporting spectacle into a scene of tragic bloodshed.
According to reports from the Daily Mail, chaos erupted when the participating car racers made a routine stop at a gas station in the San Vicente area of Ensenada city. Suddenly, a group of armed assailants emerged from large vehicles and unleashed a hail of gunfire upon the unsuspecting competitors, unleashing a horrifying volley of bullets.
Law enforcement agencies swiftly responded to the distressing situation, with units from the State Police, Marines, Fire Brigade, and the Mexican Red Cross rushing to the scene to provide assistance and secure the area. The location of Ensenada, recognized as a notorious stronghold of drug mafias and smugglers, laid the foundation for this gruesome clash.
Wasn't like a movie car chase': Indian-origin cabbie who 'rescued' Harry, Merkle from paparazzi
Investigations into the incident have revealed that the shootout in Ensenada was a direct consequence of an intense rivalry between two prominent drug mafia groups: the notorious Arellano Felix Cartel and the powerful Sinaloa Cartel. Situated just south of the US-Mexico border, Baja California serves as a pivotal hub for drug and human trafficking operations in America. Consequently, territorial disputes often escalate into violent confrontations as rival cartels vie for control over this strategic territory.
The identities of the victims, tragically killed in the crossfire, have not yet been disclosed to the public, leaving their grieving families in a state of uncertainty. To shed light on the appalling incident and bring those responsible to justice, Mayor Armando Ayala Robles has announced the formation of a special investigative team under the guidance of the state's attorney general.
Meanwhile, the Mexican Red Cross promptly transported the injured individuals to hospitals in northern Baja California, where they remain in critical condition. The road to recovery for these survivors remains uncertain as medical professionals fight to stabilize their conditions amidst this senseless act of violence.