Decoding Parineeti Chopra's bridal & Raghav Chadha's groom look in their marriage pics
Parineeti Chopra & Raghav Chadha's Wedding looks: A closer look at their stunning attire.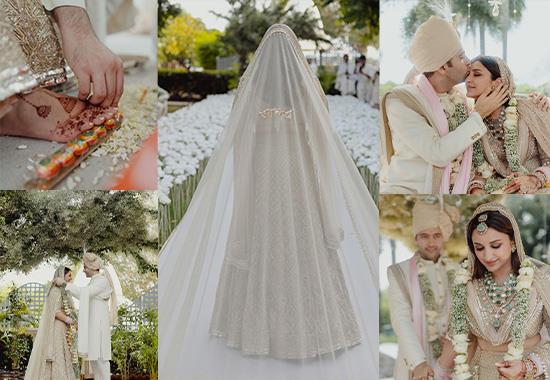 -

The long-awaited union of AAP leader Raghav Chadha and Bollywood icon Parineeti Chopra took place on September 24 in the enchanting city of Udaipur, Rajasthan.

Grandeur at The Leela Palace

The opulent wedding spectacle unfolded at the luxurious The Leela Palace Hotel.

Star-Studded attendance: Distinguished guests add Glamour to the Celebration

The wedding guest list featuring high-profile like Priyanka Chopra's mother Madhu Chopra, Delhi Chief Minister Arvind Kejriwal, Punjab Chief Minister Bhagwant Mann, AAP member Sanjay Singh in the Rajya Sabha, renowned actor Bhagyashree, and tennis star Sania Mirza, among others.

From Friendship to Forever: A journey of Friendship and Love

Parineeti and Raghav, who share a history that spans years, embarked on a romantic journey that culminated in an intimate wedding ceremony on a serene Sunday.

A Dreamy beginning

The newlyweds shared their first pictures together as a married couple on social media, and they are nothing short of a dream. The images beautifully capture the chemistry between Parineeti and Raghav.

Bridal and Groom's elegance
The photographs magnificently capture the harmony between Parineeti and Raghav. Parineeti graced the occasion in a resplendent heavy ivory-colored lehenga, while Raghav exuded charm in a dashing white sherwani.
Radiant Bridal look
Parineeti's bridal elegance left everyone in awe. Her cascading hair was complemented by exquisite diamond and emerald jewelry, adding an extra touch of radiance. Against the backdrop of lush greenery, they exchanged garlands, crafting an unforgettable moment. Her subtle nude makeup beautifully harmonized with her overall appearance, and the traditional pink chooda added the final touch to her bridal ensemble.
A Forever promise: From the first chat to Mr. and Mrs.
Accompanying the pictures, the couple shared, "From the very first chat at the breakfast table, our hearts knew. Been waiting for this day for a long time... So blessed to finally be Mr. and Mrs.! Couldn't have lived without each other... Our forever begins now..."